In this tutorial, you will discover how to perform a jailbreak on your FireStick device. By jailbreaking your FireStick, you can expand its capabilities by installing third-party applications and gaining access to a wider range of content. It's important to note that this jailbreak method is compatible with various FireStick models, including FireStick 4K, Fire TV, FireStick Lite, the new FireStick Max, and Fire TV Cube.
If you're unfamiliar with the concept of jailbreaking a FireStick or have concerns regarding its security and legality, this guide will provide you with the answers you seek.
By learning how to jailbreak your FireStick, you can enjoy free access to your favorite movies, sports, news, entertainment, and more, without having to spend a fortune on a traditional FireStick setup.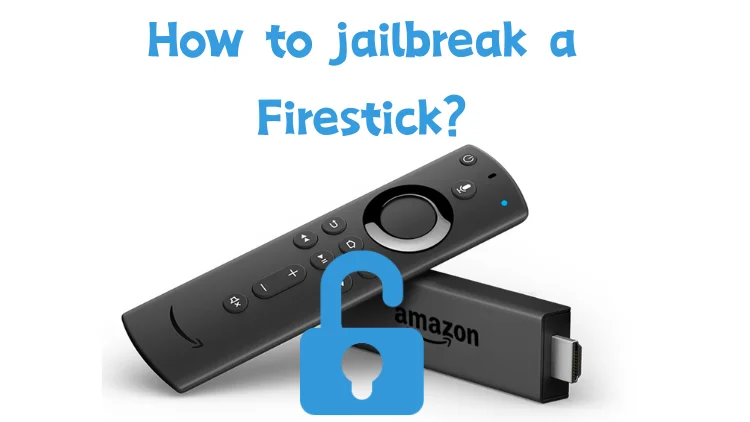 What is a FireStick Jailbreak?
FireStick Jailbreak refers to the process of removing software restrictions on an Amazon Fire TV Stick, allowing users to access and install third-party applications that are not officially available in the Amazon Appstore. The term "jailbreak" is borrowed from the concept of bypassing restrictions on mobile devices or other electronic devices to gain access to additional features or software.
By jailbreaking a FireStick, users can install various streaming applications, add-ons, and modifications that are not approved or available through the official Amazon channels. This includes apps for streaming copyrighted content, such as movies, TV shows, and live sports, without the need for a paid IPTV subscription.
Note: If your firestick is not working, you can click to see the related tutorial. Solve the problem of fire stick keep restarting.
Why Do You Jailbreak a FireStick?
There may be some potential benefits to cracking FireStick, but before we get started, let's consider the legal and security aspects (discussed in the next section). Here are some of the advantages usually associated with FireStick cracking:
| | |
| --- | --- |
| Ability to install third-party apps | By cracking FireStick, you can install some third-party apps that are not available in the official Amazon app store. This broadens your streaming options, including apps that offer live TV, sports events, international content, and more. |
| Watch streaming for free | Some third-party apps installed via hack offer a way to watch copyrighted content without a paid IPTV subscription. This means you may be able to watch movies, TV shows and sporting events for free. However, understand that accessing copyrighted content without authorization may pose legal risks and ethical issues. |
| Customization and modifications | After cracking FireStick, you can customize the device interface, install alternative launchers, and make various modifications to enhance the device's functionality. For example, install themes, add shortcuts or remove unwanted features. |
| Sideload apps | After cracking FireStick, you can sideload apps, that is, manually install APK files from external sources. This is very useful for accessing apps or services that are not available in the Amazon App Store. |
It is important to note that while jailbreaking FireStick has these advantages, as people are also concerned about a question, is cracking FireStick safe and legal?
Is It Safe & Legal to Jailbreak FireStick?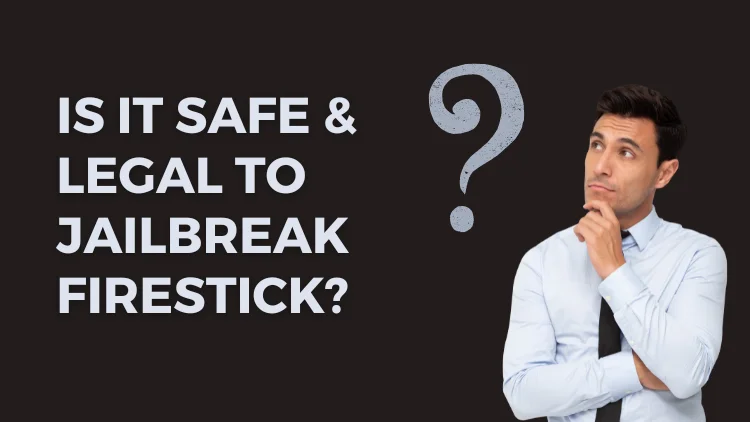 People have concerns about jailbroken FireStick because jailbroken FireStick usually involves accessing and playing copyrighted content without proper authorization. But as long as you use it properly, a jailbroken FireStick is legal and safe.
Because you just sideload the apps of your choice. No changes are made to the system files of Fire TV OS. There is no risk like hacking Android phones and jailbreaking iOs.
Jailbreak FireStick, you can download any application you like. And downloading apps that are not available on the Amazon App Store will not void your FireStick's warranty. And the process takes only a few simple steps and does not trigger difficult or technical points.
What must be said about security is that to crack FireStick to download third-party apps, you need to ensure that the source of the apps you download is safe, otherwise these unsafe third-party apps may expose your device to malware, viruses or unauthorized access.
After understanding the basics of the Jailbreak Fire Stick, we officially enter, how to Jailbreak Fire Stick?
How to Jailbreak FireStick?
Using a jailbreak firestick will be easier for frequent firestick users, but it won't be too difficult for newbies to learn how to jailbreak a firestick, and you'll probably be left with a large chunk of change.
Let's get started with the detailed steps!
Step 1 – Install the free Downloader
Install the Downloader app from the Amazon App Store. Downloader is the key start to jailbreak the Firestick.
On the home screen of your device, hover your mouse over the "Find" option.
Click on Search Downloader.
Find the corresponding program and click Install. Once done, open the Downloader.
At this point, you have installed the Downloader. If you already have the Downloader, please proceed directly to the following section.
Note: Turn off any prompts that are displayed when you first use the Downloader application. However, if it asks you to grant it any permissions, make sure you allow all of them.
Step 2 – Settings on Firestick: Enable Unknown Sources
Go back to your home screen, open "Settings" and find "My Fire TV".
Click on the "Developer Options" that appears
Then click to open "ADB debugging"
Click on "Install unknown apps". This will allow you to download third party applications.
Click on the downloader and open it.
Note: If you don't see developer options, go to Settings > My Fire TV > About. Now, select Fire TV Stick and tap it 7 times to enable the Developer option. If you are still unsure how to do this, check it out: Where can I find Developer Options on Firestick?
Step 3 – Firestick Privacy Settings
Go back to the settings window and open "Perferences".
Open "Privacy Settings".
Turn off "Device Usage Data" and "Collect App Usage Data".
Press the back button (remote control) once, go back to "preferences", click "Data Usage Monitoring", and close it.
Step 4 – Install Kodi on the Jailbreak Firestick
Kodi is a popular open source media center application that allows users to manage and play a variety of media content, including movies, TV shows, music, photos, etc. The reason Kodi is the most popular jailbreak firesticks application is due to its open source nature, which allows us to install various Kodi plugins and builds.
Open the "Downloader" that you have just downloaded
Enter the Koid download link in the input box of the downloader https://kodi.tv/download
Wait for the download to complete and install koid
Once the installation is complete, you can find the Kodi icon in the list of applications in FireStick or on the home screen.
Click Delete to discard the Kodi installation file, as this will free up valuable space on your Fire TV Stick
Click Delete again.
Return to the home screen of your device. Launch Kodi and click the Continue button.
Click Allow, wait for it to load, and Kodi will be installed on your Firestick.
How to Jailbreak a FireStick (YouTube Video)
The content of the screen displayed during the jailbreak fire stick will vary if the version is different. If you are still a bit unclear about the above steps, we have prepared a video on Yuotube to help you understand the process more clearly and then enjoy the convenience of jailbreak Fire Stick.
How to Use Jailbroken FireStick?
According to the steps above, we are ready to jailbreak the Fire Stick with the necessary pre-requisite steps and kodi ready to stand by. How to launch the jailbreak Fire Stick and use kodi to watch a series of exciting content?
Kodi use of its features involves the use of third-party plugins and add-ons. Kodi add-ons or builds are extensions to Kodi applications that provide users with additional features, content and personalization options.
So the next step is to look for add-ons or builds that are available for Kodi Premium.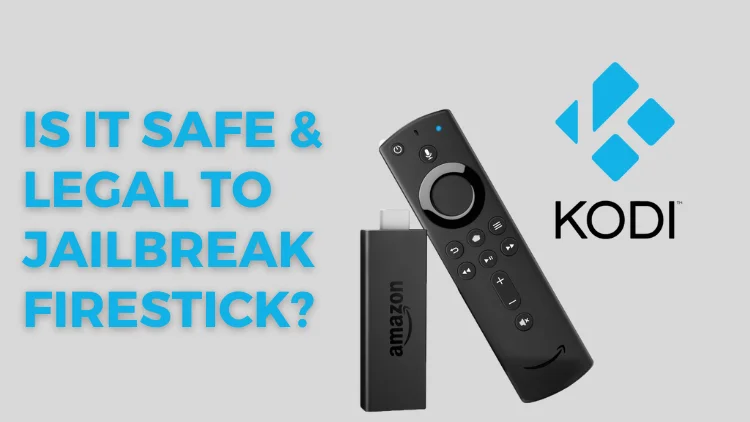 Kodi plug-in
We have compiled a selection of quality Kodi plugins. For watching movies, TV shows, music, social media, sports and other entertainment.
| | |
| --- | --- |
| Shadow | Shadow is a popular Kodi add-on for watching movies and TV shows on Kodi. It provides a user-friendly interface for easy searching and browsing of various media content.Shadow plugin provides users with a wide range of viewing options by integrating with various streaming sources such as Torrents and other streaming sites. This plugin is usually widely recommended and discussed in the Kodi community. |
| Asgard | Asgard is a popular Real-Debride-based Kodi add-on that focuses on delivering high-quality streaming content, including movies and TV shows. Using the Asgard add-on, users can browse and stream a variety of movies and TV shows, including the latest films. It offers multiple streaming sources to ensure that users can find the content they like. |
| Nemesis | Nemesis is a versatile Kodi plugin that offers a wide range of media content and features. It is a popular plug-in that allows users to watch movies, TV shows, sports events, music, radio stations and more. the Nemesis plug-in integrates multiple streaming sources and services to provide a diverse selection of content. |
| The Crew | The Crew is a versatile Kodi add-on that offers a wide selection of streams for movies, TV shows, live TV, sports and more. It has gained popularity among Kodi users due to its extensive content library and reliable streaming sources. |
Kodi Builds
Doomzday Wizard: Doomzday Wizard is a Kodi build and plugin manager that provides multiple build options, including various themes and pre-installed add-ons.
The Crew Wizard Kodi Builds: The Crew Wizard is a tool that provides multiple Kodi builds. It offers a range of different build options for a variety of user needs, including movies, TV shows, sports, live streaming, and more.
Diggz Chef Wizard Kodi Builds: Diggz Chef Wizard is a popular Kodi build and plugin manager. It offers a variety of build options with different themes and features to meet the diverse needs of users.
Grindhouse: Grindhouse is a well-known Kodi build that provides a comprehensive media experience including movies, TV shows, sports events, music, and more.
How to Jailbreak Fire Stick (ES File Explorer method)
If you have successfully jailbroken the Firestick using the downloader as described above, then you do not need to watch this section. If you are unable to do so for whatever reason. You can use the ES file explorer method.
However, unlike the downloader, the ES File Explorer method is free and you will have to pay to use it. $9. 99 a month.
Here begins the simple step-by-step process:
To prepare you can refer to the first half of the steps to jailbreak the Fire Stick using the Downloader. Enable unknown sources, turn off privacy settings, and then:
Select Search Tools in the upper left corner.
Use the FireStick/Fire TV/Fire TV Cube's remote control to type ES File Explorer.
When the ES File Explorer appears in the search results, click it.
Click Download.
Wait for ES File Explorer to download and install.
Click Open to run the ES File Explorer application.
On the right side of ES File Explorer, select and click Icon Downloader.
Click + New at the bottom.
Enter the URL https://kodi.tv/download
Click Download Now.
After downloading the Kodi APK file, click Open File.
Click Install when prompted.
Scroll down to the bottom right corner of the next window and click Install again.
You will soon see a notification that the application has been installed.
Best Jailbreak Apps for FireStick
When it comes to jailbreaking FireStick, Downloader and Koid are not the only option; many great third-party applications can still be employed on jailbreaking FireStick. With these apps you can watch various types of channel content.
Mobdro
Cinema HD
BeeTV
Yandex Launcher
Rokkr
Stremio
XitrixTV APK
VLC media player
Titanium TV
Crunchyroll
Filelinked
Related: How to install iView HD on Firestick?
Now that you know how to jailbreak Fire Stick to download more third-party apps, be aware that if you download too many apps, or older apps, these can cause your Fire Stick performance to degrade and cause Fire Stick buffering. See how to clear Fire Stick cache.
FAQ
Is jailbreaking a Firestick illegal?
Is FireStick jailbreaking illegal? No, FireStick jailbreaking is not illegal. When you jailbreak your FireStick, you are only sideloading the apps of your choice onto that device. As the owner of the device, you are free to download and install any apps you want. It is worth noting that jailbreaking itself is a legal process.
In addition, downloading apps that are not available in the Amazon App Store does not void your FireStick's warranty. Amazon allows users to sideload apps and it does not consider jailbreaking to be a violation of the warranty terms.
However, it is important to use your FireStick responsibly and within the confines of the law.
What will jailbreaking my Firestick do?
Jailbreaking a FireStick provides access to unverified apps and services that are not officially available in the Amazon app store. However, it's important to be aware that this can introduce certain risks. These risks include the possibility of accessing potentially harmful content and the potential for data breaches.
When using third-party apps, there is a chance that developers may track your app usage and collect personal information. Additionally, it's worth noting that governments and internet service providers (ISPs) might monitor your online activities, even when using a jailbroken FireStick.
To ensure your online safety and privacy, it is recommended to exercise caution when using third-party apps and services. Be mindful of the sources you download from, and consider using a virtual private network (VPN) to encrypt your internet connection and protect your privacy while using a jailbroken FireStick.
Is everything free if you jailbreak FireStick?
What channels are free with FireStick after jailbreak? Jailbreaking FireStick does not mean that everything is free. Although jailbreaking FireStick allows you to install third-party apps and access additional content, it does not mean that all this content is free.
You just unlock the FireStick in order to install streaming apps on the device. And, even though you jailbreak the FireStick, you still need to pay your Internet Service Provider (ISP) to access the web and stream content.
What channel do you get when you jailbreak Firestick?
When you jailbreak a FireStick, you don't specifically get any new channels. Jailbreaking the FireStick allows you to install third-party apps and access additional content that may not be available through the official Amazon app store. These third-party apps can provide access to various streaming services, movies, TV shows, live TV, sports, and other types of content. The specific channels or content you can access will depend on the third-party apps you choose to install and the sources they provide access to. It's important to note that streaming copyrighted content without proper authorization may infringe upon intellectual property rights.
Is an Amazon Fire Stick legal?
Jailbreaking a Firestick itself is not illegal, but using it to access copyrighted content without permission is. So, if you use a jailbroken Firestick to stream movies or TV shows that you don't have the rights to, you could be breaking the law.
Is Netflix free with FireStick?
Netflix is a paid streaming service, so it's not free. Whether you use a FireStick or another device, you will need to purchase a Netflix subscription to access its content library. Netflix offers different subscription plans with different prices and features, so you can choose the right plan for your needs.
Although you can access the Netflix app through FireStick, you still need to have an active subscription on Netflix to watch its content. Please note that many other streaming services use a similar model of offering paid subscriptions to access their content.
If you're already proficient at jailbreaking Fire Stick, you can also try jailbreaking Chromecast.
Conclusion
Unlocking the potential of your FireStick through jailbreaking can enhance your entertainment options and allow for customization. However, it's essential to approach the process with caution and adhere to legal guidelines. To ensure a safe and enjoyable experience, follow these recommendations:
Exercise Caution: When jailbreaking your FireStick, be mindful of the sources from which you download apps. Stick to trusted platforms to minimize the risk of malware or other security issues.
Respect Copyrights: Avoid unauthorized sharing and streaming of copyrighted content. Be aware of the laws surrounding digital media and make sure to consume content legally.
Stay Updated: Regularly update your FireStick device and installed apps. Software updates often include crucial security patches and improvements, ensuring a safer and smoother streaming experience.
By following these guidelines, you can make the most of your jailbroken FireStick and enjoy a personalized streaming experience. If you're looking for an IPTV subscription to complement your FireStick content, consider iview IPTV. As a premium Android and Firestick service, it offers high-quality content, and you can explore its offerings through free trials.
Related: