Onn, a brand introduced by Walmart, offers a diverse range of consumer electronics and household items, encompassing TVs, stereos, tablets, cell phone accessories, cables, batteries, and more.
Now, there's an exciting addition to the Onn lineup: the Onn. Google TV 4K Streaming Box. Known for its affordability, the Onn brand consistently delivers products at relatively low prices. The Onn. Google TV Android Box follows suit, being available both online and offline for just $19. But does it live up to the enthusiastic anticipation surrounding its release?
In this article, we delve into an in-depth exploration of the Onn. Google TV Android Box to uncover its novel features and functionalities that set it apart from its predecessors.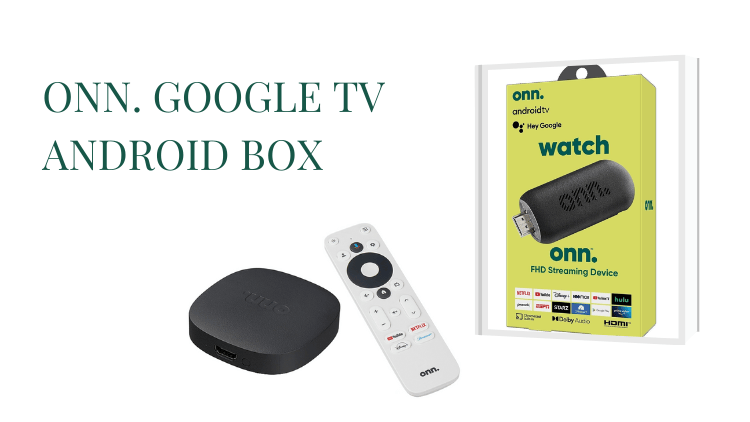 Is an Onn TV an Android TV?
Onn Android Box is a new 4K Google TV adapter from Onn, Walmart's free brand. It comes with an upgraded version of the processor. Onn Android Box retains the same 8GB RAM as previous models. Compared to the 4K Chromecast, the price of this new device is around $19.98, which is one of the most cost-effective devices. You can buy it in Walmart stores. It's the future of the new Android TV box.
Check out the best IPTV BOX for 2023.
Onn.Google TV Android Box Review
Onn. Google TV Android Box's new TV interface is different from the previous one because it's an Android TV-based model. Here you can think of Google TV as a user interface on top of the Android TV operating system. Below I will give a comprehensive description of the Onn.
Google TV Android Box. You can through the Price and the availability of the Design, Remote, Performance, Software, Audio and video, Apps Installed, Onn. Google TV Android Box Sideloading Here are a few points to get to know.
Onn.Google TV Android Box Features
Features:
4K Ultra HD resolution for high-quality TV streaming
2GB of memory and 8GB of storage space
WiFi: 2.4/5GHz 802.11 a/b/g/n/ac MIMO for fast and reliable wireless connectivity
Compatibility with Google Assistant for voice control and smart features
CPU: Quad-core Cortex-A35, GPU: Mali-G31 MP2 for smooth performance
Dolby audio technology for an immersive sound experience
Fast wireless network capability
Input: AC 100-240V, 50/60Hz, max 250mA; Output: DC 5V/1A
Powered by Google TV operating system – easily set up with your Google account
Onn Android TV Box Pros:
1. Super affordable
2. 4K Ultra HD resolution
3. Built-in Chromecast for projection of media
4. Correct home screen positioning
Onn Android TV Box Cons:
Sometimes remote unpair yourself.
Language resets occasionally cause errors.
No Dolby video standards
Only 2GB of RAM. Expanding internal storage has had its ups and downs
Onn.Google TV Android Box review: Price and availability
The Onn. Google TV Android Box looks much the same as the old UHD. But this time the device comes with shortcut buttons for YouTube, Netflix+, Disney+, and Paramount+. Compared to the price, the Onn. Google TV Android Box subscription costs around $19.
It's about $10 cheaper than the onn Android TV UHD and $20 cheaper than the Roku Express 4K Plus. Compared to the Fire TV Stick 4K and Chromecast with Google TV, the Onn android tv box is about $30 cheaper.
But, this price difference comes from its best functional features and cost performance, as well as its own sensitivity. The affordable price is pursued and loved by the majority of lovers.
Onn.Google TV Android Box review: Design
Onn. Google TV Android Box/onn Android TV Box is a matte box with a black shell and four smooth corners. There is a LOGO right in the middle of the box, and the two sides of the box are micro-USB (power) ports. On the opposite side is the HDMI port. Its flashing light is located on the other side between the two ends. You will need to place the foot on the shelf and draw a wire from both ends. You can place the box in a fixed position or on the TV.
Onn.Google TV Android Box review: Remote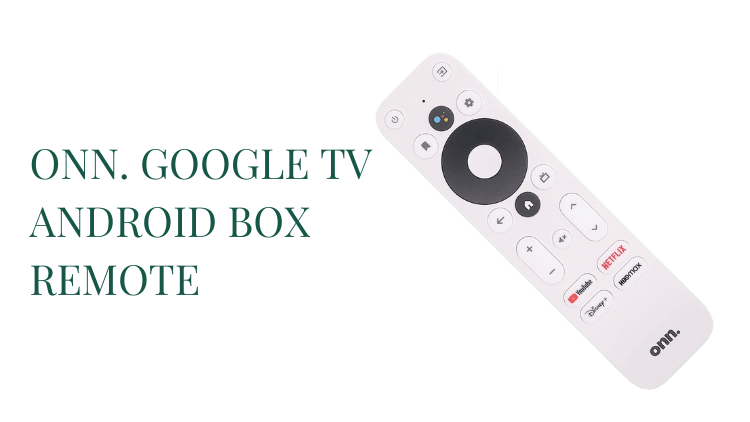 Onn. Google TV Android Box/onn Android TV Box remote control, the input button is nice to touch. Also the normal remote control with a few regular buttons. The remote also has buttons for YouTube, Netflix, Disney Plus, and HBO Max. On top of that, you also get a Preferences button, and a Google Assistant wake button. a Bookmarks button (which actually opens a context menu), and a YouTube TV button. The remote is responsive and includes Bluetooth.
You can pair the onn android tv remote, and Android TV box by pressing the button on the back of the onn. If your remote is not paired and cannot return to the screen, you should use the Google TV app from your phone or tablet and use it to control the TV.
Google Voice Assistant is enabled on the new Onn. Google TV 4K streaming box, works very well. You can test the built-in microphone in many scenarios. The only downside is that you can't use the voice assistant in third-party app navigation.
Onn.Google TV Android Box review: Performance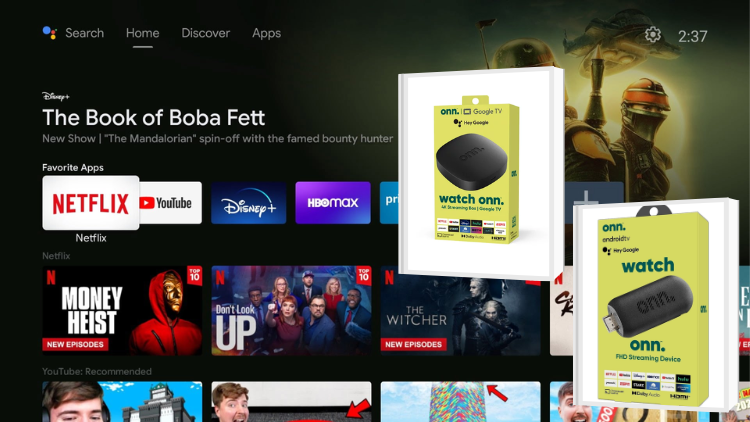 You don't have to worry that buying the ONN. Google TV Android Box/onn Android TV Box for about $19 will slow you down during use.
You can enjoy your favorite digital channels through the 4K streaming box. With 4K Ultra HD resolution and Dolby Sound support, you'll feel like you're there. Over 700,000 movies and shows in one stop. Let Google control your TV by voice, and use the built-in Chromecast to project your photos, videos, and music.
It allows us to use this feature to project family photos and videos stored on the phone. Convenient, easy to operate. It has the Google TV operating system and is easy to set up using my Google account. It also has a quad-core Cortex-A35 and Mali-G31 MP2 COU. Compatible with Google Assistant. Is a perfect substitute.
Onn. Google TV Android Box review: Audio and video
When you watch the TV picture, it presents us with 4K picture quality and resolution. as well as any HDR image quality support for Dolby Sound and Dolby Panorama, and it feels like you are already there. In contrast, the Fire TV Stick 4K and Chromecast with Google TV have the best A/V capabilities, supporting HDR10, HDR10+. and Dolby Vision video standards. as well as Dolby Digital, Dolby Digital +, and Dolby Panorama Audio standards. The Roku Express 4K Plus (HDR10/10+, HLG, and Dolby Audio) is not complete.
Onn. Google TV Android Box review: Software
The application row on its home screen is closer to the top row, located below the banner. Chromecast with Google TV (which also runs the Android TV app) puts another line of recommended content above your app. This may be something you enjoy, but it tends to get in your way. You can spend some time moving some application bars around. It sometimes shows that the language is changing to different languages, how to fix it? Here, you may need to find the HDMI-CEC Settings that change the language in the Settings.
In terms of specifications, We're talking dual-band Wi-Fi 5, quad-core Cortex-A35 processors. 2GB of RAM and 8GB of storage (like the Chromecast with Google TV 4K), onboard Chromecast, and Google Assistant.
Apps Automatically Installed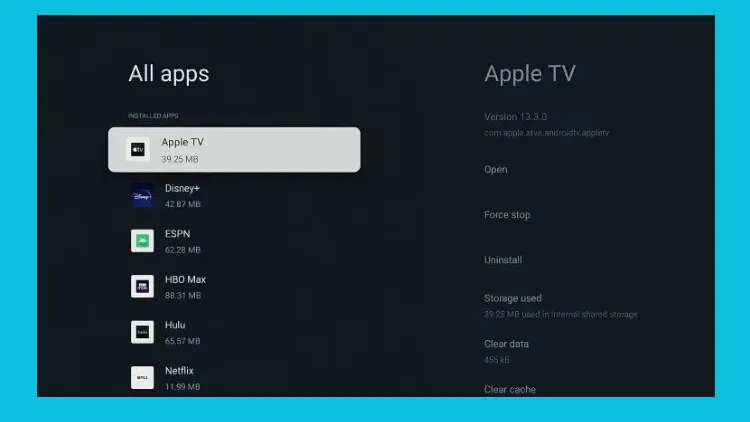 Onn. Google TV Android Box installs apps. So every now and then I need to clear out some apps that I don't use very often because I notice that the remaining storage space is very limited.
Below is my view of the installed apps and I will clear the ones I don't use.
ESPN
HBO Max
calabash
Netflix
Apple TV
Disney +
Paramount +
Premium video
YouTube
YouTube Music
What you need to know is that you can't uninstall system apps like YouTube, YouTube Music, or Netflix.
Onn. Google TV Android Box Sideloading
How to sideload on Onn. Google TV Android Box, will be my more interesting. First, we were able to launch the TROYPOINT Toolbox and side-load Wolf Launcher, Launcher Manager, Unlinked, and a few other tools. Then they all do the corresponding work in their own way.
Onn. Android TV 4K Android Box Video
The following video is a detailed explanation of the Onn. Android TV 4K Android Box.
Related:
How to Download and install iviewHD APK on Android?
How to install Apps from Unknown Sources on Android?
How to install the app to your Android box?
2023 Best Android TV Box
If you are looking for a Box that is as good or better than the Onn.Google TV Android Box. then here I will put together a few things for you about the Onn. Google TV Android Box Alternative. It is also a 2023 Best Android TV Box list. And some recommendations for a new screen with Android TV built in.
Nvidia Shield TV
Xiaomi TV Stick 4k(MI BOX)
Chromecast with Google TV (HD)
Nvidia Shield TV Pro
Google Chromecast with Google TV(4K)
Related:
How to Jailbreak Chromecast With Google TV 2023
How to install IPTV on Nvidia Shield?
FAQ
Is Onn TV a good brand?
Onn is a great TV brand. It is cheap and is the choice of most people. With a sleek design look, you also have Roku, voice control, can connect to only Assistant, and good customer service. For such a price, you can get a 4K UHD resolution picture and a widescreen display. and DLED etc. The only downside is that they don't last as long as other TVS due to poor manufacturing quality and are not good for gaming.
What is Onn TV?
Onn stands among a select group of private-label brands exclusively available through a single retailer. Similar to Best Buy's Insignia TVs and soundbars, Amazon Basics cables and accessories, and Target's Heyday products, Onn offers a range of TVs and other items. When compared to more renowned brands, Onn TVs are often priced more affordably, making them a cost-effective choice for consumers.
Can I replace Android TV with Google TV?
Yes, it is possible to replace Android TV with Google TV on compatible devices. Google TV is an upgraded version of Android TV and offers a more refined user experience with enhanced content discovery and personalized recommendations.
However, whether you can replace Android TV with Google TV depends on the specific device you own. Some devices may receive official updates or firmware upgrades from the manufacturer that transition them from Android TV to Google TV. In such cases, you may be able to switch to the Google TV interface through a software update.
It's important to note that not all Android TV devices may be eligible for the update to Google TV, as it depends on factors such as the device's hardware capabilities and the manufacturer's decision to provide the update. If you're interested in replacing Android TV with Google TV on your device, it's best to check with the device manufacturer or official sources for any available updates or information regarding the transition.
What is the difference between Google TV and Android TV?
Google TV is a redesigned interface with personalized content recommendations and integration of various streaming services. It offers a visually appealing interface and deep integration with Google Assistant. Android TV, on the other hand, has a more traditional interface with app-based navigation and access to a wide range of apps. While both support Google Assistant, Google TV focuses more on content discovery, while Android TV's implementation may vary depending on the manufacturer.
Does Onn TV have Google?
The remote included with the Onn device is slightly longer compared to the one that comes with the Chromecast with Google TV. The setup process for the Onn device is similar to other Google TV devices, allowing you to use the convenient Google Home mobile app to effortlessly complete the setup. This means you can avoid the tedious task of typing out email addresses and passwords using the remote, making the setup process much faster and more convenient.
Is Onn Roku TV an Android TV?
Like other Android TV devices, Onn streaming media devices also function as Chromecast devices. This means that you can use music or video apps on your phone to play media on the TV, and you can also set pictures from Google Photos as screensavers.
What is an Onn device?
Walmart's in-house tech brand Onn. is known for making decent hardware at an affordable price. One such product (or products) came in the form of a discrete Android TV device that became wildly popular due to its very inexpensive price tag.
What is 4K UHD Android TV?
What does 4K mean? A 4K TV is a TV set with 4K resolution. That means the TV has 3,840 horizontal pixels and 2,160 vertical pixels, for a total of about 8.3 million pixels. On TV product specifications, resolutions are usually shown as "3840 x 2160" for 4K TVs.
Is Android UHD TV better than smart TV?
Android TV can be considered a type of Smart TV, but it offers a wider range of auxiliary features and application libraries. While Smart TVs generally offer a friendly, intuitive user interface, they tend to outperform Android TVs in terms of speed and responsiveness due to the limited number of applications they can handle.
Final thoughts
It's a pleasure to introduce you to this new box, and while the Onn Android Box may not have the same brand recognition as its more recognizable competitors, it's a worthy product.
Also allow me to introduce you to our iview IPTV, and if you still need the stable of IPTV channels that should be available in the Canada and UK, feel free to opt for the iview IPTV subscription.