Your order means a lot to us, which is why we are committed to providing fast, secure, and reliable delivery for all of our IPTVs. Delivery usually takes place within 10 seconds to 2 minutes and you can check your IPTV activation code in My Account or your order email.
Where to get my Activation code?
When you purchase our IPTV subscription plan, there are two easy ways to get your IPTV subscription code.
Go to My Account -Order -CODE (that is your subscription code)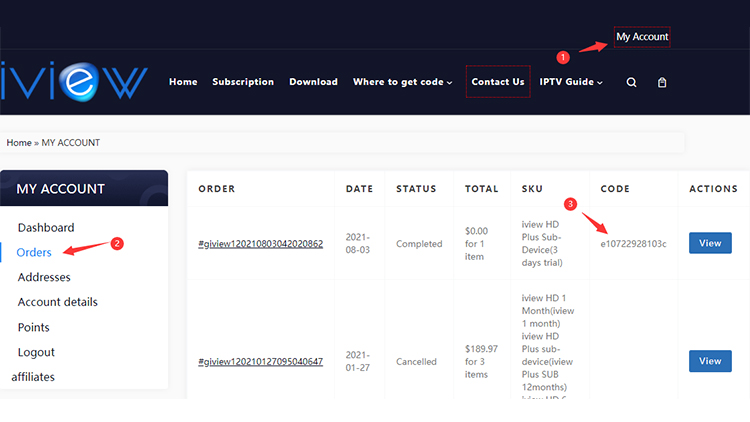 2. The subscription code will be sent to your email at once automatically when paid. If not received in 5mins, please check whether in your spam box or contact us directly: support@iptviview.com
Other matters needing attention
1. If the subscription failed to activate, please check:
(a) Whether filling in the correct code
(b) Or installed the correct version apk.
2. Trial Codes, can not watch some valued sports channels, only paid Subscription codes can enjoy that.
Other iviewHD FAQ
1. What streaming devices does iViewHD IPTV support?
iview IPTV only works on Android devices. For example Android TV Box, Smartphone, Tablet, Firestick, Nvidia Shield, and more.
2. Which version Apk you installed?
iviewHD (blue color)
iviewHD Plus (red color)
They are using different codes, so please pay attention.
Iview IPTV is the best UK and European IPTV Service that offers 1000+ live channels and 3000+ latest and hottest VODs with a 3-day free trial. If you're looking for an IPTV subscription plan, click here to quickly subscribe to an IPTV package.
3. How to get the IPTV Activation code?
Sign up for an iviewhd account
Choose one of the subscription plans, including a free trial and a full subscription
Follow the prompts and you will get your activation code at the end of the day. Free activation code or subscription activation code.
For detailed steps, click on the article: Get & Step by Step Guide to IviewHD Activation Code
4. How many subscription plans are available?
iviewhd offers 1/3/6/12 month subscription plans, divided into different packages with Standard and Plus versions, please click iviewHD shop for details.
5. When my order failed, what to do?
Please do not use VPN. Also need to make sure your card-issued bank country is the same as your now internet login country.
If still, pay fails, please try another card.
6. Does iView TV IPTV offer adult channels?
With iView TV IPTV, you can spend quality adult time. However, the adult channels are locked by default to protect family values. All you have to do is enter a secret code to unlock these channels.
iview HD Activation Code: Subscription Plans
One Connection
1000+ Live Channels
Android device
FAV&EPG
VOD with 3000+ Latest & Hot Movies
One Connection
1000+ Live Channels
Android device
FAV&EPG
VOD with 3000+ Latest & Hot Movies
One Connection
1000+ Live Channels
Android device
FAV&EPG
VOD with 3000+ Latest & Hot Movies