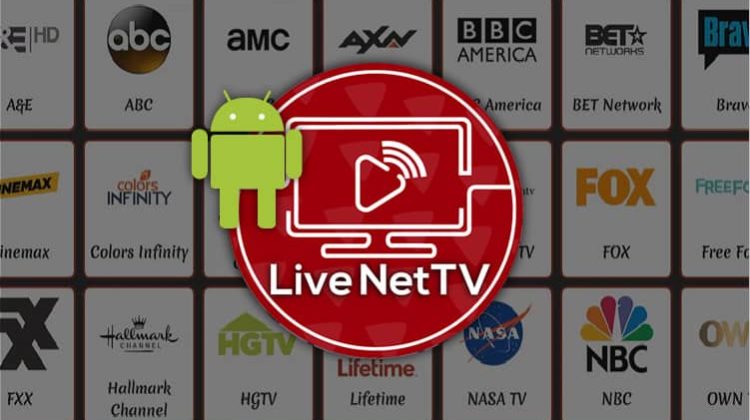 Gone are the days when we used to rely on cable TV to enjoy TV shows, catch up with the latest, or enjoy sports and other live events. Thanks to streaming apps like Live NetTV, not only can you watch any TV channel on demand, but you can also watch them for free and slash the huge subscription bills.
Live NetTV is one of the most popular live TV streaming apps today, widely lauded for offering thousands of TV channels that free IPTV in HD. Streaming made easier is the motto for the developers, and they ensure that your streaming is not inconvenienced by providing alternative links for streams and frequently updating the list of streams.
To help you know more about how to watch TV for free and this streaming app, here's a detailed review of Live NetTV.
Live NetTV Review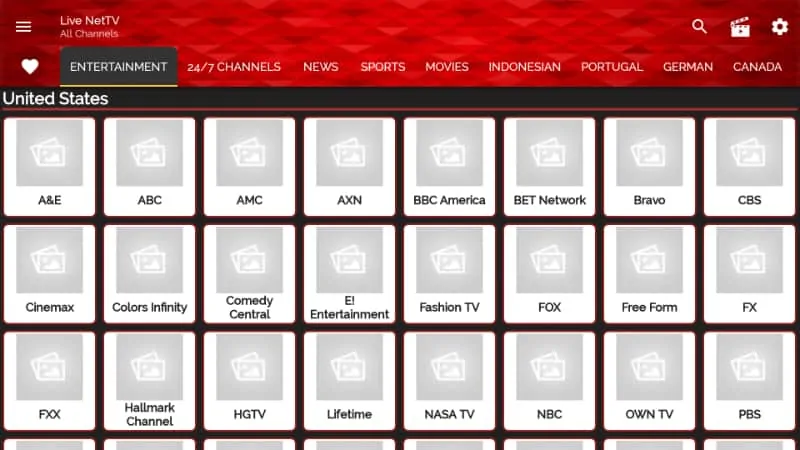 Just like its name suggests, Live NetTV is a dedicated TV streaming app (there are a few VOD movies but this section is still being worked on, so we'll ignore it for now). The app provides streams from all over the world to let you enjoy free IPTV in HD, so you can watch TV for free. You can, therefore, enjoy PPV events such as UFC, boxing, WWE, etc., and other live sports such as football – besides the regular TV programming.
Live NetTV however does not host the streams it provides and it generally crawls the internet to get free streams for the TV channels. This causes some concerns in that most of these are usually pirated, and Live NetTV developers are keen to distance themselves from any liabilities. This means that if you use the app, you are responsible for your own privacy.
If you want a premium IPTV streaming service, iviewHD IPTV is your best choice. Check out the full guide to iviewHD here.
Live NetTV is also a favorite of many Firestick users and is the best free app to watch live TV on Firestick.
Live NetTV Features
Download, Play
One of the best things about LiveNet TV is that you don't need a subscription or even an account to use. Just to have an internet connection to watch TV for free.
Simple Interface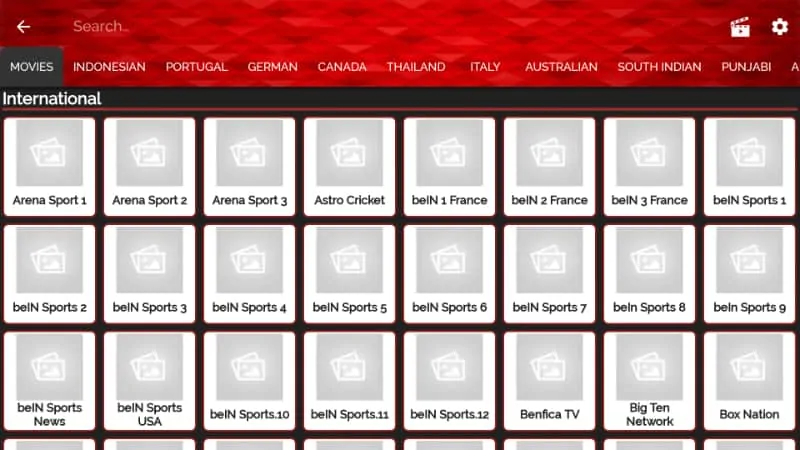 LiveNet TV features a simplistic (though not the most attractive) interface that is well organized to make it easy to get channels. Under the channel categories, the channels are further grouped into specific countries that include Pakistani, Indian, International, US, UK, Arabic, Iran, and Turkish.
The main category also includes countries such as Indonesia, Portugal, German, Canada, Thailand, Italy, Australia, and South India.
Live events section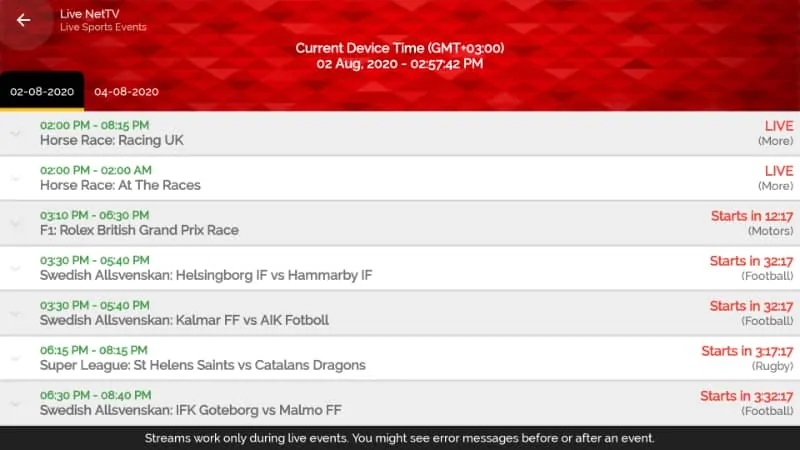 This is one of the best features of the Live NetTV app. This section provides a list of all live and scheduled events. The feature can be used to go directly to a live event instead of looking for the channel broadcasting it, unlike other apps.
For upcoming events, you can easily schedule the event and select a channel you prefer. When the event starts, Live TVNet will automatically tune in. This feature is found under the menu section.
Save your favorites
If you frequently watch a certain channel, you can make it easily accessible by simpling pressing the favorite button when you open it.
Channel Requesting & Reporting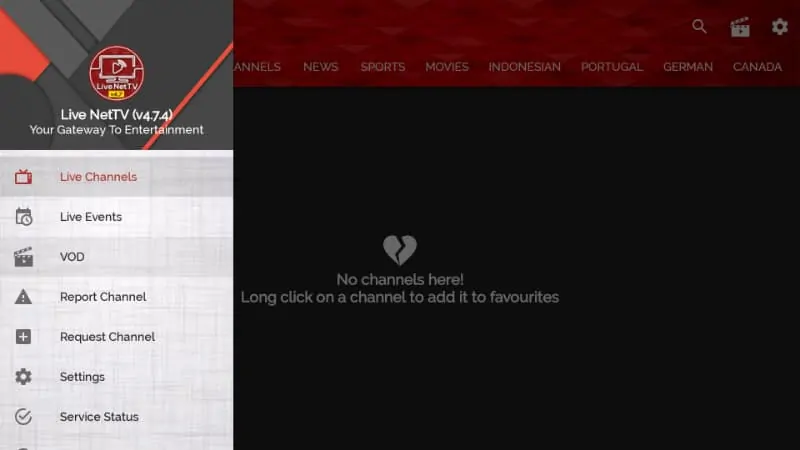 You can request for a particular channel or report a problem right from a reporting option on the menu side.
External Player Support
LiveNet TV supports the famous media players including Android players, MX players, XMTV player, and their own XYZ Player.
Chromecast Support
The app provides the capacity to cast live channels to your TV using LocalCast, WebVideoCast, and Bubble UPnP Players.
Preferences
The fact that there are hundreds of TV channels in different languages to watch for free, means that browsing can be a little troublesome. However, LiveNet TV allows you to sort this out by providing a feature for hiding channels from any country or language you don't find useful. This feature is found on the settings page.
You can also set your channel font style, set quality, and set a password for the settings tab.
Channels Breakdown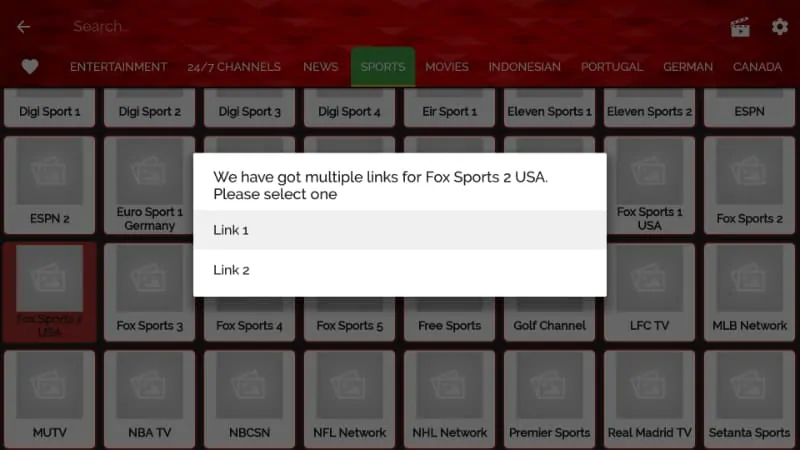 Live NetTV provides 800+ live TV channels to watch for free, and these are grouped into various categories and countries. But one of the best things about the app is that channels and links are added and updated daily as soon as possible. This ensures that although you won't miss a broken link in over 800+ free channels, such is minimized as much as possible.
The channel categories include:
Sports – This is arguably the best category on the app, and it contains almost all the world's best sports channels.
News – This section contains about 160 channels from various countries.
Movies – Here, you will find lots of dedicated movie channels
Documentary – Fan of the Nat Geos and Discoveries? This section is well populated.
Cooking, Music, Kids, and Religious – Each of these categories is packed with more than 100 channels from all over the world.
You can always hide some channels to enhance navigation.
Live NetTV Pros & Cons
👍Live NetTV Pros
800+ channels
No sign up needed
Multiple links
Wide variety of channels
Easy to use interface
The Live events section is super useful
👎Live NetTV Cons
A few links may be broken
Since its ad-supported, you'll have to do an advert every now and then
Best alternatives to Live NetTV: iviewHD IPTV
More than 1000 Live TV
More than 3000 VOD
Free EPG
Paid Sports Channels
3 days Free Trial
and more
Click here for the iview IPTV user guide
Other Best Live Net TV Alternatives
Airy TV
AOS TV
Pluto TV
Xumo
Plex
Ola TV
TVTap Pro
HD Streamz
RedBox TV
Oreo TV
How to Install Live NetTV on Firestick & Android TV to Watch TV for free
To help you install the app without a fuss, we have drafted a detailed installation guide that you can use to install the app on Firestick as well as Android TV Box.
How to install Live NetTV on FireStick
There are quite a few different sites advertising links to the downloadable .apk for Live NetTV, but right now, I'd probably suggest that you go directly to the developers themselves! After all, if you go there, they will have the latest and greatest builds; this way, you don't need to worry about updates and downloading malicious software or applications!
Follow these simple steps to install Live NetTV on FireStick, and you're done:
Step 1
Launch your Fire Stick, go to the Settings option, and select Developer Options. Select Apps from Unknown Sources to ON. Also, please select the option entitled ADB debugging and ensure that it is ON also. Ignore the message you receive about unknown sources; you'll always be able to reverse this after you've completed installing the app. and then click the OK button to accept.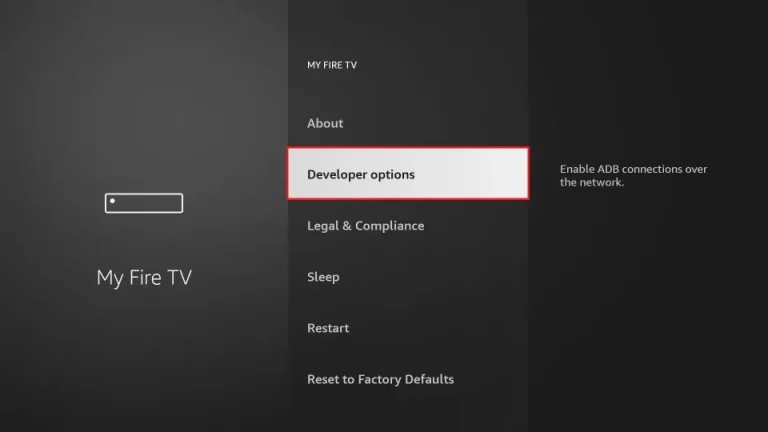 Step 2
Go back to the Fire Stick home screen, click on the top left's search button, and type in Downloader. Select the downloader app and click get to download it to your system.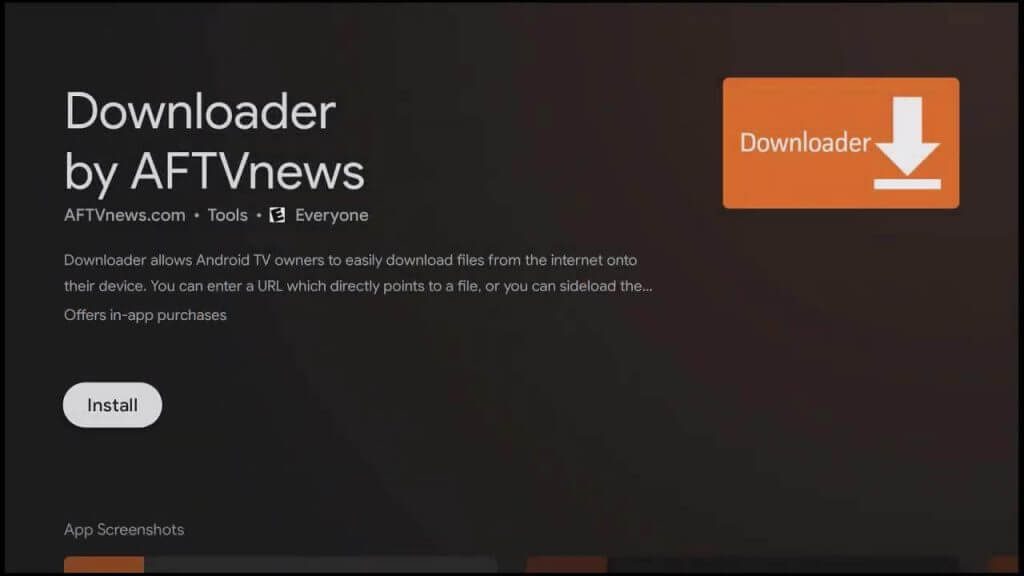 Step 3
Launch Downloader, and in the address bar, type in https://aftv.livenettv.to/, click on the download/go button to download the APK to your Android device.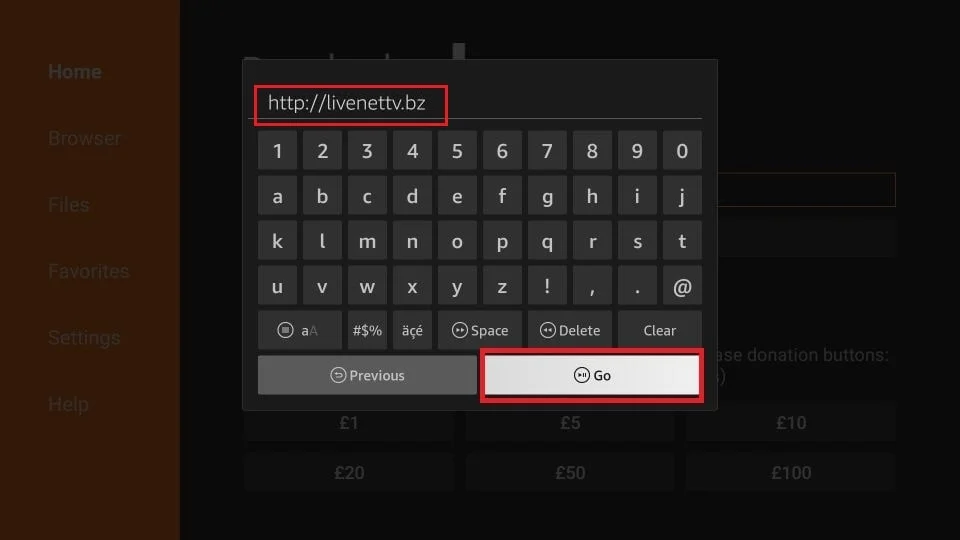 Step 4
Install the app you downloaded in the previous step (since you've already enabled unknown sources in Step 1, this should go seamlessly). If you haven't done so yet, you'll need to do it now).
Step 5
Open the app and select the appropriate stream you are interested in! That's it. It's really that easy.
You can install Live Net TV on your Android TV box in the same way. If you don't already have the Downloader app on your Android device, here's a quick download link. https://airtv.shop/dl
Related: How To Install Redbox TV On Firestick and How to Install GT IPTV App For Android & Firesticks
Wrap up
Live NetTV app presents an excellent option for tuning in to your favorite stations and enjoying live events from all around the world.
We hope this Live NetTV review to watch TV for free, has been useful. If so, please share it and share it with your friends. Also, let us know your experience in the comments section below.