Do you know about jailbreaking? Jailbreaking is the process of removing restrictions imposed by the manufacturer to gain unauthorized access to the device's operating system. This includes jailbreaking the Firestick and jailbreaking the Chromecast, which this article is about to talk about.
Developed by Google, Chromecast is a popular streaming device that allows users to wirelessly stream content from a variety of platforms to their TV screens.
And by jailbreaking the Chromecast, you can get third-party apps outside of the official Google Play Store to watch more free movies, TV shows, games and more.
But be aware of your third-party sources and use IPTV VPN to protect your personal information and bypass surveillance.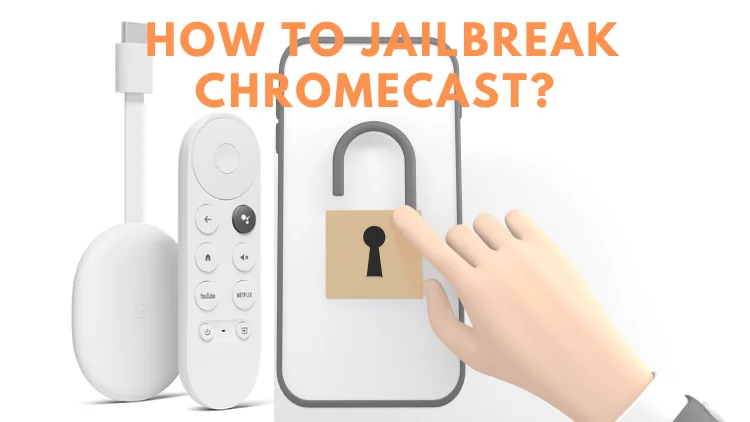 What does jailbreaking a Chromecast do?
Jailbreaking a Chromecast refers to the process of removing restrictions imposed by the manufacturer to gain unauthorized access to the device's operating system. By jailbreaking a Chromecast, users aim to unlock additional functionalities and customization options that are not officially supported by Google.
Here are some of the things that jailbreaking a Chromecast can potentially enable:
Installation of Third-Party Apps: Jailbreaking allows users to sideload or install apps from unofficial sources that are not available on the official Google Play Store. This expands the range of applications that can be used on the Chromecast beyond the ones provided by Google.
Customization: Jailbreaking can provide users with the ability to customize the interface, appearance, and settings of their Chromecast. This includes modifying themes, icons, backgrounds, and other visual elements according to personal preferences.
Advanced Features: Jailbreaking may enable access to advanced features that are not accessible on a regular, non-jailbroken Chromecast. These features can include advanced streaming options, network configuration settings, or even the ability to stream content from unsupported sources.
Media Playback Options: Jailbreaking can offer additional media playback options, such as the ability to play various file formats that are not natively supported by the Chromecast. This allows users to stream content that would otherwise be incompatible.
Network Modifications: With a jailbroken Chromecast, users may have the ability to modify network settings and establish more control over how the device interacts with the network. This can include features like using a VPN or custom DNS settings.
How to Jailbreak Chromecast With Google TV – Video
In order for you to have a more intuitive feeling of how to jailbreak Chromecast, you can first have a basic understanding through this video, or through this video already understand how to operate, and success, that will be very happy.
We also have new content for you: Onn Google TV Android Box: Walmart 4k streaming device
How to jailbreak chromecast With Google TV
Some users prefer a step-by-step tutorial with screenshots, so we try to accommodate that as well.
As with the jailbreak Fire Stick, first get your device to complete the downloader installation as well as enable the developer option.
Click on "Apps" in the main menu.
Click on "Search Apps"
Enter "Downloader" (AFTVnews) in the input field.
Click on the icon that appears and install it. When finished, return to the Chromecast home screen.
Click on "Settings" – "System" – "About"
Click Android TV OS build about 7 times until you see the message Developer options are enabled
Once the developer option is enabled, you will notice a message that says "You are now a developer!"
Go back to "App" in Settings, click on "Security and Restrictions"
Select Unknown Sources
Open the unknown source for the Downloader application.
That's the whole process.
FAQ
Can Chromecast install APK?
By default, Chromecast devices, including Chromecast with Google TV, do not support the installation of APK files or third-party applications directly on the device. Chromecast is primarily designed as a streaming media player that relies on casting content from compatible apps on your phone, tablet, or computer.
The Chromecast device itself does not have an interface for installing or running standalone apps. Instead, it acts as a receiver for streaming content from supported apps on your casting device. You can control the content playback and settings through your casting device and supported apps.
However, it's important to note that Chromecast with Google TV, which includes an Android-based operating system, does have an app store called the Google Play Store. You can browse and install apps available in the Google Play Store specifically designed for Chromecast with Google TV. These apps are vetted and approved by Google to ensure compatibility and a seamless user experience.
If you need more apps from third-party sources, use the jailbroken Chromecast mentioned in the article.
Is it legal to jailbreak?
Jailbreaking has been legal in the United States since the Digital Millennium Copyright Act was passed in 2010. The act grants users the right of root access to their phones, but there are still limitations. You're legally responsible to abide by copyright law when deciding which apps and operating systems to download.
Does Chromecast have Android OS?
Both the 4K Chromecast and the HD Chromecast currently run on Android 12. The Chromecast with Google TV (HD) launched with a newer version of Android TV than the 4K model had at the time, but due to an update to the 2020 model, both devices now run the same software.
Why jailbreak chromecast?
Jailbreaking allows users to customize the Chromecast's user interface, settings, or features beyond those provided by the official firmware. It also enables users to install third-party applications or APK files that are not officially supported by Google. This expands the range of apps available and allows users to access content or services that are not available through official channels.
Is it illegal to jailbreak a device?
Using a jailbroken device to access pirated or legally restricted content is against the law. Even if you stay within the legal limitations, many risks come with a jailbroken device that often deter people.
If you want to watch live TV on your Fire Stick, check out the guide.