Reliable and stable IPTV TV service over 4 years, 1000+ Live and popular channels for America and Europe, VOD with over 3000+ latest movies, 7 Days EPG function with Gild and Classic format.
iviewHD IPTV

FREE 72 HOURS TRIAL – DEMO
Step1: Sign up for a website account and Get a Trial or Subscription Code
Step2: Download and Install iviewHD APK
Step3: Activation Code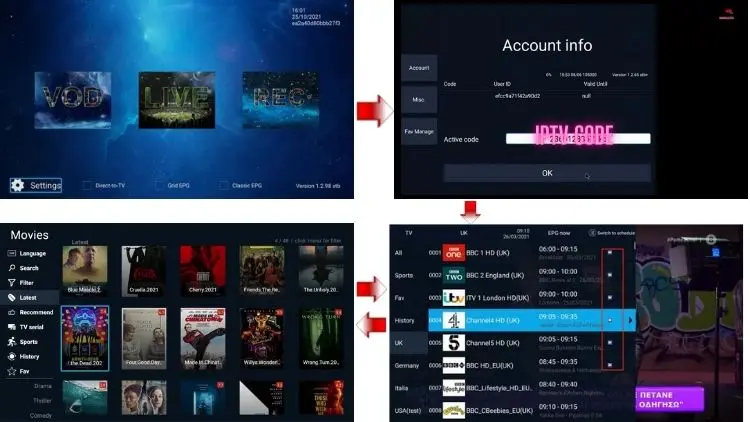 Click here for a free trial of IView Plus IPTV
Note: Some important sports channels may be blocked in trial codes, but all open in subscription codes.
Do you want a high-quality IPTV service? Are you tired of the bad loading?
Our IPTV Subscription is your solution for a stable and efficient streaming service.
Get this IPTV Instant Trial and then decide wisely whether you want to be a permanent user of IPTViview or not. No credit card is required.
Key Features
Work any place in the world with internet, no Dish, no Cable.
The Most stable HD IPTV service in the world!
3 Days Free Trial available & Simple for testing.
iview IPTV can run on Android devices like Samsung Mobile phones, Pad, TV Box, Smart TV, Fire Stick, Fire TV, Shield TV, NVIDIA SHIELD box, Enimga2 DVB Box so on.
1000+ Live TV channels, 3000+ VOD Movies
Grid/Classic/Traditional EPG Menus
With IPTV Standard and Plus two packages.
iview Plus packages with 7 days catch up (playback function for over 200 important channels and sports).
iview Plus Package with Cloud PVR Function (Record Function, Saving in the cloud forever)
iview Plus version now supports multi-devices with the family package. You can order a Sub-Device code to save money now.
Stand-alone Android application
Code sent to you instantly once order.
Click here for a free trial of IView Plus IPTV
iviewHD VS iviewHD Plus
Features
iviewHD
iview Plus
3days Free Trial
√
√
FAV & EPG
√
√
1000+ Live Channels
√
√
3000+ VOD
√
√
PPV
√
√
All Android Device
√
√
VOD with Valued Sport

×

√

Cloud PVR

×

√

7 Days Catch-Up

×

√

Family Package
2nd/3rd/4th device cheaper

×

√
Some frequently asked questions about our IPTV Free trial:
What is the difference between a Trial code and a Paid subscription code?
The main difference as below:
The IPTV trial Code is for 3days.
IPTV Paid subscription code is for 31/93/186/372days.
Some wonderful Sports Channels are not opened in the Trial Code.
View IviewIPTV paid packages at:
1 Month IPTV Subscription for iView HD
3 Months IPTV Subscription for iView HD
6 Months IPTV Subscription for iView HD
12 Months IPTV Subscription for iView HD
There would be some reasons for the subscription code not working.
Please check as below:
Please make sure the code input correctly.
If still a problem, please check whether installed the Apk with the correct version.
There are two versions: Standard Version with Blue color(iviewHD) and Plus Version with Red color.
So please check which version subscription code you ordered.
If the above not help, please contact our support email directly.
If you bought the wrong version subscription code, please contact us to exchange it for you, but need to pay the balance of the change from the Standard version to the Plus version.
IPTV free trial and activation tutorial
How to use the iviewHD Free Subscribe?
iview IPTV app which you can download for free and use on your android based devices such as a firestick, fire tv, android tv box, and android smartphones.
Ok, first things first to install the iview IPTV app you will need to buy a subscription here to make sure you get the best quality IPTV channels from us and also the app will not work without a subscription.
Once you have got your subscription it's time to get your hands dirty and install the app which is easy to do compared to a lot of other apps out there.
For setup of IPTV trial service please download the iview IPTV Apk and click the link below (Need to login).
First of all, you will want to open the email you have been sent which will have your IPTV code or if you do not see the email do the below to see your IPTV code.
How To Find Your IPTV code For The IPTV App?
You will find the IPTV code in the email we send you once your order has been processed.
Or you can go to the iview website and view your IPTV code by following the steps below.
Log on to the iView website>My Account>Orders>Code (This is your IPTV code)
Ok now that you have the IPTV code let's look at how to put our app on your android device the first part will cover how to install the app on your android tv box or your Android smartphone or tablet.
Then the second part will explain how to install the iview IPTV app on your firestick or fire tv.