If you want to record your favorite TV shows, movies, and live sporting events, cloud PVR is an important feature to consider when choosing a live TV streaming service in the UK.
iViewHD Plus version with record function (Cloud PVR Function), one subscription code can record 20 files/40hours in total, can save forever!
Which Live TV Streaming Service Has the Best Cloud PVR?
YouTube TV places no storage limits on your recordings and saves them for up to nine months. Unlimited PVR is available at no extra charge with the base plan.
Hulu + Live TV features 50 hours of cloud PVR storage, but you must pay an extra $9.99 per month for 200 hours to be able to fast forward through commercials in your recordings.
Sling TV includes 50 hours of free PVR storage, and the oldest recording is deleted once you hit that limit. For $5 a month, you can protect your recordings and get 200 hours of storage.
When it comes to cloud PVR, three main factors to consider are the storage limit, how long you can keep recordings, and the ability to fast forward through commercials.
Tip:
Short on PVR Storage Space?
Watch the On-Demand Version
If your live TV streaming service doesn't offer unlimited cloud PVR storage and you don't want to pay extra for it, you can save PVR space by viewing an on-demand version.
All of the major services have some TV shows and movies available on demand.
Subscribe to IPTV Premium and watch over 3,000 of the latest and hottest VOD movies & series.
About the iViewHD IPTV service with cloud PVR:
Pros:
Users can record multi-channel simultaneously. Now we don't have a limitation, For example, users can watch sports live channels and record UK, GR, DE channels at the same time.
Users can set a record timer for a future event, the server will record on time no matter STB is powered on or power off when time is up.
Users can record past events as well. (catch-up events)
The Capacity of each user's Record time is 40Hours.
Cons: Users can only record the entire EPG event, User cannot decide when to start/stop. No matter when the user starts to record, the server will record the current event completely. For example, if the current event is from 9:00-10:00, and the user starts to record at 9:30, the server will still record 9:00-10:00.
Notes:
The way to tell if a channel has Catch UP is by looking at the EPG (TV guide) to see what channels show the video recorder image or icon.
If there are recording events under processing, in the Top-right corner of the full screen, the user will see a Red Circle with Numeric inside, the Numeric represents current record tasks. The Numeric doesn't include the schedule record tasks.
You can learn more about Catch UP TV here
Record your favorite shows in two steps on IPTV
The IPTV service gives users 40 hours of cloud PVR storage, You can record live TV channels, one or more at a time, and schedule recordings if you want.
1. You can record live channels when clicking the Live icon on the main screen. When playing a live channel, you can open the 'EPG Detail' screen with 3 bottoms at the bottom (Play, Record & Record Series).
2. Click the 'Record' button and you will be prompted on-screen with 'Add Record Task Success' which the recording has begun. You can also schedule a recording when clicking the 'Record Series' button.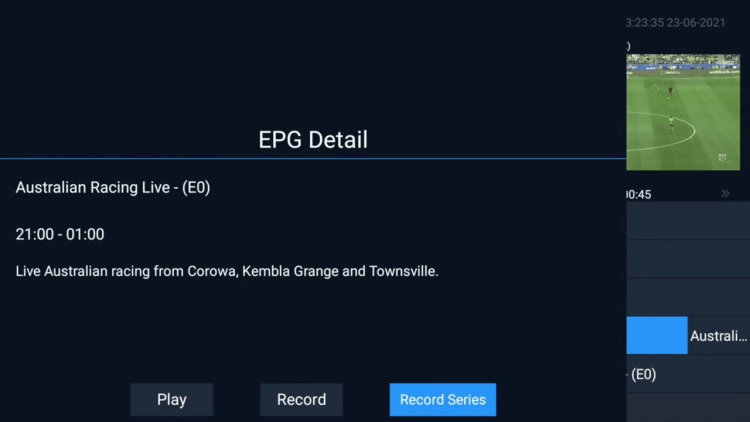 It is easy and simple. In this tutorial video, you can learn how to Recording IPTV on iView Plus
iview Plus offers a 3-day free trial for each new user, and you can get this premium IPTV free trial to experience the cloud recording feature. Check out the IPTV free trial tutorial here.
More about record IPTV
How do I record IPTV on my smart TV?
Steps to Record IPTV on Smart TVs:
To go through the recording customization, you need to press the Menu from the UI and pick Broadcasting > Schedule Manager > Schedule > Schedule Recording. Set the important boundaries in such things as Source, Channel, Repeat, Start Time, and End Time.
How to record iptv on Firestick?
Step 1: Connect a memory storage device to the USB port of the TV. If the device is compatible and properly formatted, you will see a splash screen or prompt.
Step 2: Press the MENU button on your remote and navigate to the Broadcasting section. From there, select Schedule Manager and then choose Schedule Recording.
How do I record on IPTV?
While watching a live program, simply press the "Record" button on the remote control once to begin recording the current program. A banner will briefly appear at the top of the screen showing "Recording" to confirm the recording has begun. Whole Home DVR stores up to 60 minutes of the live TV channel you're tuned to.
I'm happy to share the information with you. Please share this link and Help other people.