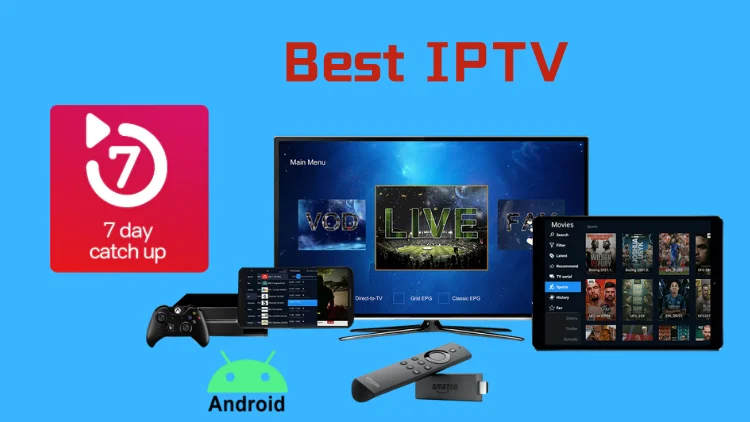 Catch up TV IPTV: A feature that allows you to view a past recording of a specific television show/event.
Catch-up TV IPTV episodes are usually only available for a few days after the show has aired. IPTV services that do offer this feature usually only include popular channels.
Step by step use IPTV Catch up on iview HD Plus
You get 7 days of Catch UP TV by iview HD Plus (playback function for over 200 important channels and sports).
The way to tell if a channel has Catch UP is by looking at the EPG (TV guide) to see what channels show the video recorder image or icon.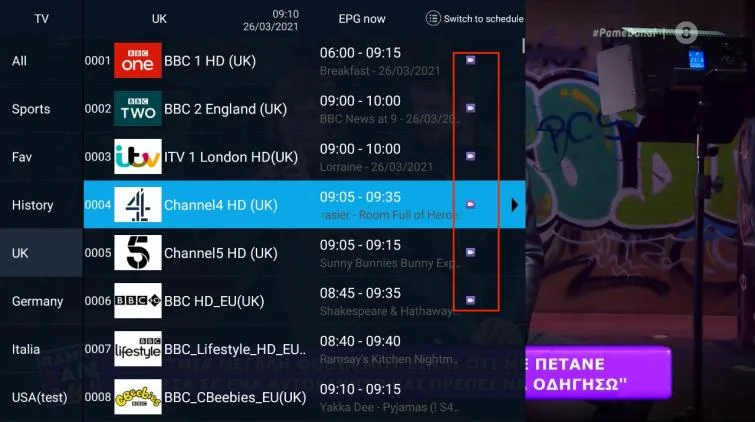 How to use
Launch iviewHD Plus and go to Live TV, then press the OK button to bring up the channel list
Browse the channels with the "catch-up icon" (video recorder image) and go to the single EPG view
Press the "right arrow on the remote control" to open a single EPG view while the info bar is displayed or directly from the channel list
If the information bar disappears, press the "Information Button" on the remote control and then press the right arrow
Navigate to the past date and time or program you wish to replay
Press OK to start viewing catch-up programs
Video Tutorial: How to use IPTV catch up on iviewhd
In this tutorial video, you can learn how to use Catch Up on iView Plus
IPTV iview provides in excess of 1000 channels from around the world from all over the UK/Ireland/Europe / America and Asia. There is something for everyone.
Having access to these channels, you can watch pretty much anything from Live Sports events including pay-per-view (PPV) events to Documentaries, TV series, and Movies.
You can think of Catch Up as a time-sensitive DVR (digital video recorder). Click here to show you how to use the record IPTV
With 7 days catch up, you don't need to get up at midnight for a sport anymore.
Note: The way to tell if a channel has Catch UP is by looking at the EPG (TV guide) to see what channels show the video recorder image or icon.
Customer reviews:
7 Day Catch Up – Lots of channels have the ability to be able to watch any show aired in the last 7 days (I use this so I don't have to get up at 2 am to watch a live event that may be in UK or USA)
Many of our channels are in true HD providing superb picture quality and most channels have 7day catch-up so you'll never have to miss your favorite program again!!
You've just realized that the big finale of the TV series you've been watching for the last 2 weeks, you missed it! …or that soap, at last, had a decent interesting storyline enough to hold your attention to want to know who did it, and then, aaargh you were at the shops and forgot to record it! Don't panic, IPTV Catch up is a great service available to you that some internet TV providers offer that gives you the chance to go back in time to Live programs that get automatically recorded for you.
With 7 days catch up, you do not need to get up at midnight for a sport anymore.
FAQ
How do I watch TV replays?
Yes, you can watch any show, sports event, game, etc. that you missed in the last seven days with iviewHD Plus.
What channels can I catch up with?
With iviewHD Plus you can catch up on over 200 important channels and sports, and you can get a 3-day free trial of iviewHD Plus to enjoy the full list of catch-up channels and the fun it offers.
Still, hesitating? We offer a 3-day free trial of IPTV, click here for more IPTV test for free tutorial
View IPTV subscriptions with Catch Up TV
Why is IPTV catch up not working?
There could be several reasons why IPTV catch up is not working. Here are some troubleshooting steps you can try:
Check your internet connection: Make sure your internet connection is stable and fast enough to support streaming. You can try restarting your router or modem and see if that helps.
Restart your device: Sometimes simply restarting your device can resolve the issue. Turn off your device, wait for a few seconds, and then turn it back on.
Clear cache and cookies: Clearing cache and cookies on your device can help resolve any issues that are caused by corrupted files. You can do this by going to the settings of your device and finding the option to clear cache and cookies.
Check for software updates: Make sure that your device and IPTV app are up to date with the latest software updates. Check for updates in the app store or through the settings of your device.
Contact your IPTV service provider: If the above steps do not resolve the issue, contact your IPTV service provider to see if there are any known issues or if they can provide assistance in resolving the problem.
It is important to note that catch-up services may not be available for all channels or may have restrictions depending on the IPTV service provider.
Is there an adult channel?
With iView TV IPTV, you can spend quality adult time. However, the adult channels are locked by default to protect family values. All you have to do is enter a secret code to unlock these channels.
Credit Card payment failed, any other way?
Credit card payment failure: Do payment by Western Union or AliPay. Please contact us and we will provide you with the best assistance.
If you want other payment ways, please contact us. support@iptviview.com