Setting up IPTV on your Zgemma Box is a straightforward process that allows you to access a wide range of television channels and content through an internet connection.
IPTVs delivers television programming through IP networks, offering a convenient and flexible way to enjoy your favorite shows, movies, and sports events. If you have a Zgemma Box and want to set up IPTV, follow the step-by-step guide below to get started.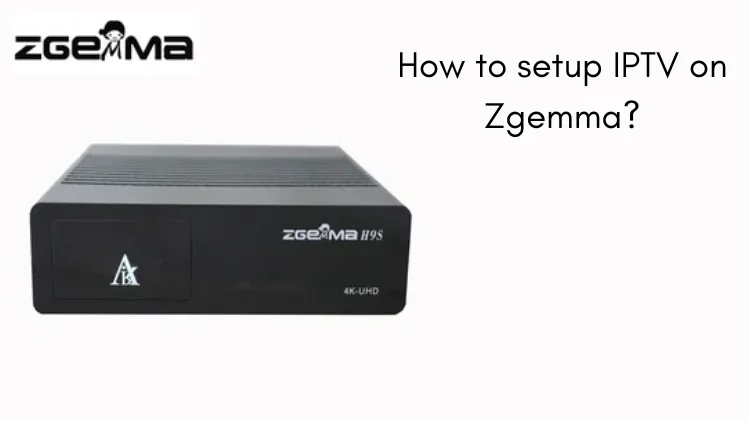 What is Zgemma?
Zgemma is a brand of digital satellite and IP TV receivers. Zgemma devices are popular among users who want to receive and watch satellite TV channels or IP TV content. These devices are equipped with various features such as satellite tuners, internet connectivity, multimedia playback capabilities, and support for different IPTV services.
Zgemma devices typically run on Linux-based operating systems and provide a user-friendly interface for easy navigation and configuration. They offer support for different satellite systems, such as DVB-S2 (Digital Video Broadcasting – Satellite, Second Generation), as well as IPTV streaming.
Here we have compiled a list of favorite IPTV Boxes for 2023.
Zgemma Box Key Specs
Zgemma releases different models with different specifications, for detailed and up-to-date information on specific Zgemma box specifications, I recommend referring to the official Zgemma website or contacting its customer support directly. Below is my list of some common features and specifications found in Zgemma devices.
Processor: Zgemma boxes usually have a powerful processor to ensure smooth performance and efficient operation.
Tuner: Zgemma devices usually come with multiple satellite tuners that enable users to receive and decode satellite TV signals. The number of tuners may vary, with some models offering dual tuners, while others may have more.
Storage: Zgemma boxes often have built-in storage options such as an internal hard drive or eMMC flash memory to store recorded content or to install additional plug-ins.
RAM: The amount of RAM on Zgemma devices can vary, usually between 1GB and 4GB. Adequate RAM ensures smooth multitasking and efficient operation of the device.
Connectivity: Zgemma boxes offer a variety of connectivity options, including Ethernet ports for wired Internet connections, Wi-Fi support for wireless connections, and USB ports for external devices such as storage drives or dongles.
Operating System: Zgemma devices typically run on Linux-based operating systems customized for satellite and IPTV use. These operating systems provide a user-friendly interface and support a variety of features and plug-ins.
Multimedia support: Zgemma devices are designed to handle multimedia playback. They support a variety of video and audio formats, allowing users to play their media files directly on the device.
For example: Model: Zgemma H9.2H
Processor: ARM Cortex-A53 Quad-core 1.5GHz
Tuner: Dual-satellite DVB-S2X+T2/C Tuner
Storage: 8GB eMMC Flash memory
Memory: 2GB DDR4 RAM
Connectivity: 1 Gigabit Ethernet port, 802.11ac dual-band Wi-Fi, Bluetooth support, 2 USB 2.0 ports
Operating system: Enigma2 (Linux-based operating system)
Video output: HDMI output, supports up to 4K UHD resolution
Audio output: Optical S/PDIF and HDMI audio output
Other features: support for HEVC/H.265 decoding, support for multiple digital audio formats, support for EPG (Electronic Program Guide), support for multi-language interface, etc.
Types of Zgemma Devices
Zgemma has introduced several specific device models, some of the common Zgemma devices are
Zgemma H11S: A satellite receiver that supports 4K Ultra HD resolution.
Zgemma H10 series: This series includes different models such as Zgemma H10 Combo and Zgemma H10 Twin.
Zgemma i55 Plus: This is an IPTV receiver that supports streaming services and applications. It is an upgraded version of the Zgemma i55.
Zgemma i55: An IPTV receiver with support for streaming services and various applications.
Zgemma H9 series: This series includes several models such as Zgemma H9.2H and Zgemma H9 Twin.
Zgemma H4 Series
Zgemma H6 Series
Zgemma H7 Series
Zgemma H2 Series
Zgemma Star Series
Zgemma S2 Series
Most of them support satellite, terrestrial and cable TV reception.
How to Set Up IPTV on Zgemma?
Connect and power your Zgemma device, ensuring it is connected to your TV.
Press the Menu button on your remote to access the main menu.
Select Plugins from the menu to open the Plugin Browser.
Use the Green button on your remote to download plugins.
Wait for the plugin information to load and display.
Scroll down to find Epgimport (1.0 + git134) under Downloadable Plugins.
Confirm the download by selecting Yes when prompted.
Allow some times for the download process to complete.
Once the plugin is downloaded, return to the Plugin Browser, where you will find EPG-Importer.
Restart your Zgemma device and make note of its IP address (Main Menu >> Information >> Network >> IP).
On your PC, install the Putty application.
Launch Putty and enter the IP address in the designated tab.
Select Telnet as the connection type.
Click Open to initiate the Putty Terminal.
In the terminal, enter the login "root" for the zgemmah2s device and press Enter.
Once logged in as root, enter the script provided by your IPTV provider and press Enter.
The script will be added to the IPTV based on the provided IP address.
Allow hours for the download of Root-Hosting Bouquet, VOD Bouquet, Live TV Bouquet, and other bouquets.
When the download is complete, you will see a message stating "Your box will now reboot."
Your Zgemma box will reboot, and the Putty terminal will close on your PC.
Once the reboot is finished, you will have access to the content from your IPTV service provider.
You can now start streaming IPTV videos on your Zgemma device.
You can use both the Xstream codes API and M3U URL to stream the IPTV content on Zgemma.
Best IPTV Providers for Zgemma Device
Before setting up IPTV on your Zgemma Box, you need to choose a reliable IPTV service provider. Research different providers and select one that offers a wide range of channels, good customer support, and a stable streaming experience.
Ensure that the provider supports IPTV setup on Zgemma Box or provides compatible M3U playlist or Xtream Codes API details.
OTV IPTV
OTV IPTV is one of the popular IPTV services on Reddit, offering over 10,000 live channels, 45,000 movies and 5,000 series, such a huge library of content that you can find everything you want to see. A free trial is offered, as well as time-shifting and EPG, with 99.99% uptime.
IPTV Trends
IPTV Trends is a trusted IPTV service boasting a staggering 19,000 television channels. Delight in a vast array of movies, news, sports, and other entertaining content provided by this IPTV provider. With a commitment to seamless streaming, IPTV Trends ensures uninterrupted enjoyment for its subscribers. The platform maintains an impressive server uptime of 99.9%, guaranteeing a buffer-free and freeze-free experience for users.
Yeah IPTV
YeahIPTV is a service compatible with all devices, offering 4800 TV channels and VOD for watching sports PPV, news, cartoons, movies, serials and more. Available in FHD, HD and SD quality, as well as EPG. Yeah IPTV review.
Strong IPTV
Strong IPTV is one of the popular IPTV services in the UK, offering more than 14,000 HD channels and 70,000 movies and TV shows. And there are 4K/HD/SD/Full HD channels to choose from. Besides, Strong IPTV has parental control, anti-freeze technology and 99.9% server uptime. Strong IPTV Review.
iview IPTV Tips:
The Zgemma Box is not an Android-based device, it usually uses the Enigma2 operating system, which is an operating system designed specifically for satellite TV receivers. Therefore, Zgemma Box itself is not available for Android devices.
But iview IPTV is one of the premium Android services that Zgemma cannot be on our service.
With over 1000 SD/HD live channels, iview IPTV offers premium channels from UK, Ireland, Germany, Italy, Australia, Greece and more. IPTV free trial is available.
For Android devices, FireStick is a good choice. jailbreak Fire Stick is able to download many third-party applications. This can save a lot of money, but you should also be aware of the potential risks involved and use a VPN to protect your connection information.
How to flash Zgemma H11S
1) Format an USB device drive as FAT32 File System
2) Download the OpenBh image usb.zip and copy to the root of your USB flash drive.
3) Power off your H11S and Insert the USB Flash Drive that contains the OpenBH zipped image on the Rear USB port of your Zgemma STB
4) Press and hold the MENU button on your RCU whilst you power the H11S on.
5) After 10 seconds you can release the MENU button and it will boot to the Bootmenu.
6) Then choose Flash Local Image
7) Choose the Usb Flash Disk that contains the zipped OpenBh image.
8) Over the named zipped file ( OpenBh ) … press OK on your RCU and choose the Partition you want the image is flashed to ( Linux1, 2, 3 or 4)
Alternatively, when you get to the boot menu, you can select Flash Online image, and select OpenBh from the list
How to flash Zgemma H9 S
Download an image from: https://openpli.org/download/zgemma/H9.2H+SE
Download both the recovery_emmc and emmc zip file from the OpenPli website
Do NOT unpack these files but copy these zip files to your USB stick.
Place USB in the box while power off.
Turn on the device at the back en PRESS AND HOLD the POWER BUTTON on THE REMOTE until the recovery menu appears
Now flash the recovery_emmc zip first
Repeat procedure and flash the emmc image file to 'linux slot 1'
After flashing, the box will restart in the recovery menu
Remove the USB stick
Select 'linux slot 1' to start the flashed image
FAQ
What does a Zgemma box do?
Zgemma box is a satellite receiver that allows users to receive and decode satellite television signals. It enables users to access a wide range of satellite TV channels and content. The box typically comes with built-in satellite tuners, which receive the satellite signals and decode them for display on a connected TV or display device.
Is Zgemma compatible with my satellite provider?
Zgemma receivers are generally compatible with various satellite providers. However, it's important to check the specifications and compatibility of the specific Zgemma model with your satellite provider before making a purchase.
How do I set up my Zgemma box?
Setting up a Zgemma box involves connecting it to your satellite dish, configuring the necessary settings, and connecting it to your TV or display device using an HDMI cable. Detailed instructions are typically provided with the Zgemma box or can be found in the user manual.
What features does Zgemma offer?
Zgemma receivers typically offer features such as high-definition (HD) and ultra-high-definition (UHD) support, Enigma2 operating system, electronic program guide (EPG), recording capabilities, and networking options for streaming and accessing online content.
Conclusion
In conclusion, setup IPTV on your Zgemma box opens up a world of possibilities when it comes to TV channels and content. By following the steps above, you can enjoy a diverse range of live TV channels, movies, series, and much more.
Congratulations! You have successfully set up IPTV on your Zgemma Box. Now, you can enjoy a wide variety of television channels and content through your IPTV subscription. Explore different genres, catch live sports events, and binge-watch your favorite shows, all from the convenience of your Zgemma Box.