IviewHD IPTV is the best IPTV UK service provider. It offers a premium IPTV subscription service to a wide range of IPTV subscribers in the UK, USA, and European countries. One of them, the iviewHD IPTV standard Family Package, is popular with most households. For most families, it solves the problem of watching TV and not being unified. It's also fun for the family.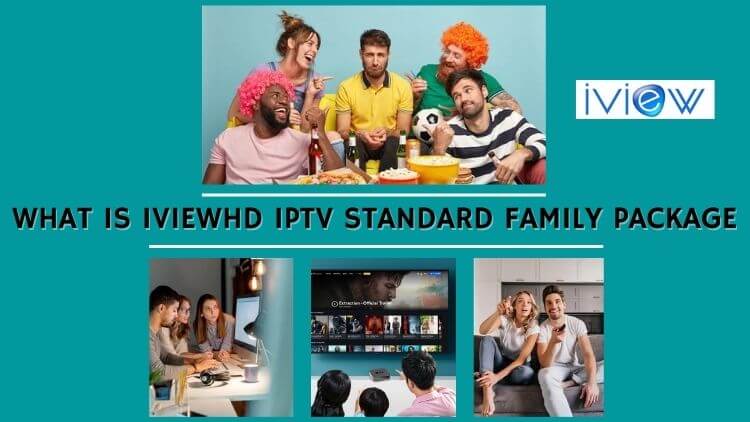 What is iviewHD IPTV?
IviewHD IPTV is an IPTV UK service with the most stable application server and engineering team for more than 5 years. Have high-quality standard and HD live channels, especially hot and wonderful live sports channels. And the server is efficient and stable, which ensures you get better quality when watching HD channels and VOD with zero buffer. The biggest feature of iviewHD's service is its IPTV Family Package. It allows users to connect to more devices than normal IPTV services. It also offers two types of IPTV family packages (Standard/Plus Family Package), giving users more freedom in the number of connections to choose devices. This article mainly introduces the iviewHD Family Package to IPTV users. Read on to learn all about the iviewHD Family Package.
Feature of Standard Family Package
1. 1 x Standard 12months subscription
2. 1 x Sub 12months subscription
3. 7Days EPG & FAV
4. 2 Connections
5. 1000+ Live, 6500+ Movies, TV Serials
6. Save Over 35% for Family Second Device
With the family package, You can enjoy the same IPTV service on your Android Phone or Android PAD, also You can enjoy it in your Living Room or Bedroom or Outside, saving a lot.
Why choose the iviewHD Family Package?
Compared with iviewHD, the iviewHD Family Package not only has all the functional services of iviewHD but also can connect to one more device. And can save you 35% on a second device subscription. It is very convenient and cheap for families who often use IPTV to watch TV.
Details of iviewHD Family Package
The following is a detailed introductory guide to the iviewHD Family Package.
Live TV channels
IviewHD Standard Family Package features over 1000 live channels, 6500+ movies, TV Shows, live world sports, and much more!
The iviewHD Family Package is one of the most popular live TV options among wire cutters, especially among sports fans. You can enjoy a Sub-Device 3 Days Trial of the best IPTV completely free with the Standard Family Package. Test quality flow and stability, then decide to buy an IPTV subscription. Check it out here: Get a free trial of the Standard Family Package.
FAV (Favorites) & EPG
iviewHD Family Package offers FAV (Favorites) & EPG features, allowing users to add favorite channels to FAV groups or create new live channel groups. With EPG's capabilities, users are allowed to watch current and upcoming shows, and it also allows them to switch channels.
Number of Connected Devices
The iviewHD Family Package connects 2 devices, allowing you to connect a sub-device in addition to the primary device. You can enjoy the same IPTV service on your Android Phone or Android PAD, also You can enjoy it in your Living Room or Bedroom or Outside, saving a lot.
IPTV Subscription Price
The subscription price of the iviewHD Family Package is relatively cheap. $230.0 gets you a 1 x standard 12months subscription + 1 x Sub 12months subscription. Get 35% off and save a lot of money.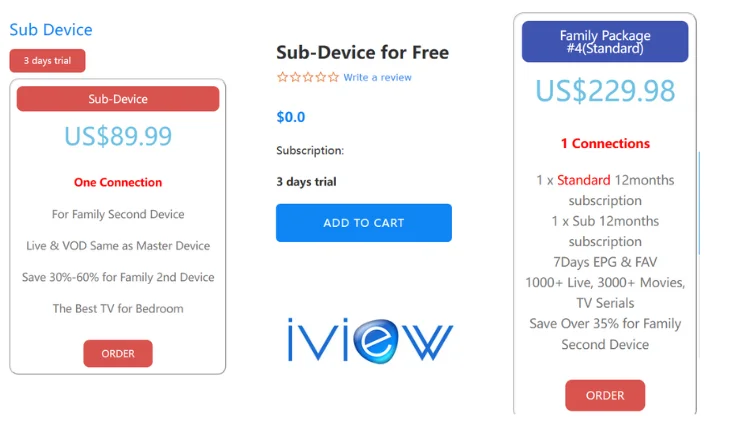 Check it out here: Get a Standard Family Package subscription plan.
Compatible Device
iviewHD is compatible with Smart TV Samsung, LG, Sony, and all Android TVs; The IPTV service is also compatible with Android TV BOX, Android smartphones, and tablets, smart TVs, Firestick, Nvidia Shield…
Customer Support
If you subscribe to the iviewHD Family Package, you'll get access to a 24/7 professional customer support team. In the process of use, any problem encountered, customer service at any time for you to solve in a timely manner, to provide a safe guarantee.
Standard Family Package FAQS
1. What is a family plan/multi-device/multi-room IPTV?
The iviewHD IPTV Family Package, it can be called a multi-device IPTV or multi-room IPTV. If you order a 12-month subscription code for the second device, you can save 35% for your family.
2. How to get the iviewHD Family Package?
You can go to https://iptviview.com/, click the IPTV subscription page, find the iviewHD Family Package, and click Add shopping cart.
3. How much equipment/room does the family package support?
Up to now, family packages offer up to 4 devices as multi-room/multi-device subscriptions. 4 Devices require 4 subscriptions: 1 normal subscription code + 3 Sub Device subscription codes.
4. What is Master Device? What is a Sub-Device/ Slave Device?
Install the Standards APK on device A.
Install sub-device APK on device B.
After activating the subscription code xxxxxxxxxxxx on Device A, fill in the same subscription code xxxxxxxxxxxx and bind Device B to Device A.
Then Device A becomes the master device. Device B becomes the Sub Device device (the slave device).