iView HD Plus IPTV With iView HD Standard package, 7 days catch up (playback) for over 200 very important channels, Very important sports and events, Recording function for catch up channels.
Please register a website account before applying for a 72-hour free trial.
Because we will first verify the validity of your email and automatically send the subscription code to your email and your website account after you submit your application
(New) IPTV Family Subscription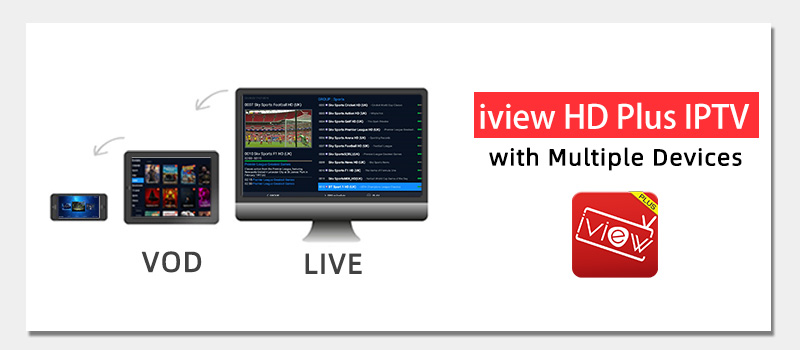 This Subscription Package is mainly for families.
When you have our IPTV Plus version subscription code, you can buy Sub-Device code(s) on the Second/Third Devices for your family!
Note: One code is only for one device
With the family package, you can use our IPTV Plus version as Multi-Room IPTV/Multi-Devices IPTV, Saving money and Enjoying more Family Fun!
Now: This Multi-Room IPTV service is available for a free trial for 3 days. Go into Action!
Tip: This post will show you about Multi-Room IPTV Complete Guide.
How to use it?

Installed iviewHD Plus APK on Device A(Master), install iviewHD Plus Sub-Device APK on Device B(Sub- Device/Slave)
Bind Sub-Device B to Device A by inputting subscription active code whichever has been used on Device A.
Fill in 'Sub-Device Code' to Device B after Recharged then can watch Live Channels & VOD directly.
Some frequently asked questions about our IPTV Free trial:
What is the difference between a Trial code and a Paid subscription code?
The main difference as below:
The trial Code is for 3days.
IPTV Paid subscription code is for 31/93/186/372days.
Some wonderful Sports Channels are not opened in the Trial Code.
Notice:
You can check your subscription/trial code in your user center: SKU–IPTV CODE.
Some important sports channels may be blocked in trial codes, but all open in subscription codes.
Plus version now supports multi-devices with a family package. You can order a Sub-Device code to save off 60% for the bedroom (the second yearly code).
This post will show you about Multi-Device IPTV Detailed manual
Our IviewHD is a solid IPTV service for over 5 years, with the content features of HD Live channels sports, VOD shows mainly for the European market.
Below are some key features of it.
-Work any place in the world with internet, no Dish, no Cable.
-The Most stable HD IPTV service in the world!
-3 Days Free Trial available & Simple for testing.
-It can run on Android devices like Samsung Mobile phone, Pad, TV Box, Smart TV, Fire Stick, Fire TV, Shield TV, NVIDIA SHIELD box, Enimga2 DVB Box, and so on.
-1000+ Live TV channels, 3000+ VOD Movies
-Grid/Classic/Traditional EPG Menus
-With IPTV Standard and Plus two packages.
-IviewHD Plus packages with 7 days catch up (playback function for over 160 important channels and sports).
-IviewHD Plus Package with Cloud PVR Function (Record Function, Saving in the cloud forever)
-IPTV Subscription plan: We offer different plans for subscriptions, 3 days test for free, 1 month, 3 months,6 months, and 12 months for your choice.
To learn more about iviewIPTV's products, click here to view them.
Details of the different packages of iviewIPTV: