+1,300 international channel playlists and +3,000 on-demand HD and Full HD video movies
Available Channels: UK, Ireland, Germany, Australia, Greece, Italy, France, USA, Russia, Netherlands, Arabia, Turkey ……
Premium sports, soccer, boxing, news, and more ……
IPTv Subscription Compatible with: Android TV Box, Android Phone, Android Tablet, Android Smart TV, Firestick, Nvidia Shield…
Stable servers, high availability, no cutbacks (load balancing)
Fast and guaranteed servers with no interruptions and a team of repair technicians ready to solve problems.
iView HD vs iView HD Plus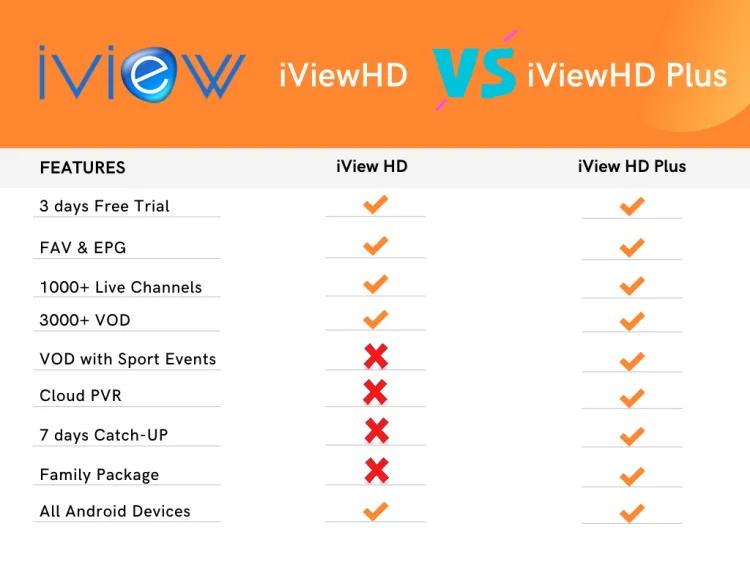 12 Months IPTV Subscription Features
With this IPTV 12-month subscription package, you have access to all TV channels and programs, and if you don't use it, you can cancel it at anytime without automatic deduction.
If your Android device does not have iView HD Apk installed, for this purpose, please go to this page and download the APK file, then install it manually on your Android device.
The 12-month IP TV subscription is powerful, affordable, and easy to use. Channels and video on demand (VOD) are constantly being added. Each time, you'll find new channels and new content directly on your IPTV device.
12 Months IP TV Subscription: Enjoy the best TV channels from around the world on your IPTV device without freezing and buffering. And discover the latest new movies and series.
Our service allows you to subscribe to 72 hours of IPTV Trial, completely free of charge. Thus, you will be able to test the functionality and stability of our servers, as well as the quality of the channels and videos offered.
You can also choose an IPTV subscription that suits your budget here
IPTV APP Install Guides
Android Box
IPTV App Install
Go to the Settings on your Android device, choose Security, and enable Unknown Sources.
Install iView HD or iView HD Plus Apk on your Android Box. (STB Version)
How to get activated?
Open the IPTV App and Go to Settings > Account,
Type the IPTV Active Code.
Click here for a full tutorial: How to Install iView HD IPTV on Android?
Amazon Fire TV / Stick
Go to Settings > My Fire TV > Device > Developer Options > Apps from Unknown Sources and turn it ON.
Install Downloader App on your Firestick.
Open the Downloader, Enter the IPTV Apk download link in the address bar.
After installation is complete, Open the iView HD IPTV App, Go to Settings, and Input your IPTV Code.
Click here for a full tutorial: How to Install iView HD IPTV on Firestick?
Android Phone
Enable the Install from Unknown Sources setting.
Install iView HD Apk on your Android Phone / Tablet. (PAD Version).
Open the iView HD App, Go to Settings, and Input Your IPTV Code.
Click here for a full tutorial: How to Install iView HD IPTV on SmartPhone & Tablet?
Where to get IPTV Activate Code?
Please visit the website to get your IPTV activation code (My Account > Orders > Code), or check your email for an activation code. Don't forget to check your junk folder.
If you do not receive your IPTV Activate, please email us at support@iptviview.com
IPTV Channels list
Our IPTV subscription includes HD and SD channels and VODS (movies, series, documentaries, anime, sports, etc.) With our IPTV subscription, you can access all international channels from around the world, including all major and pay channels from the UK, Ireland, Germany, Greece, all of Europe, Australia, and we even have African, Asian, and Arabic channels.
Get an IPTV Free Trial to see the full list of channels.
Related products