With iView IPTV, you will not feel the need to have a cable or Dish TV connection. iView IPTV service can provide most of the features of cable TV, but it only needs a small part of the price.
The user interface is also super friendly, and you can easily navigate through the app.
The TV channels are distributed in different languages based channels like English, German, Greek, and more.
The channels are also categorized into different genres, and you can choose the one that you want to watch such as entertainment, sports, news, etc. There are separate categories for religious and children's programs as well.
The content is almost overwhelming. All of this is supplied by iView IPTV to your home TV in HD quality via my android device.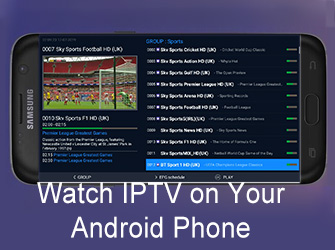 If you have an Android Mobile Phone, then you must consider using this app.
Using this app requires a subscription code, This guide show you how to get an IPTV Trial code and install IPTV on android Phone & Pad
How to install and use IPTV on the Android Phone & Pad?
We'll be covering:
Chapter 1 Get an IPTV trial code
Ok let's dive straight in, the first thing you will want to do on your Android Phone or Pad is to open your browser and type in the iView IPTV store address. https://iptviview.com
Get 72 hours of IPTV trial can be broken down into three tasks:
Register for an iView IPTV store account
Sign in iView IPTV store account
Get 72 hours of IPTV trial
You can see our guide on How to get IPTV for Free here
Chapter 2 Install and activate the IPTV Subs code on Android Phone & Pad
Please follow the below two steps to install and activate the IPTV Subs code:
Please download and install the correct IPTV Apk version to your device from here:
iView HD code with Blue color Apk,
iView HD Plus code with Red color Apk.
Please input the activation code in your Apk to open the channels.
Check out iview IPTV and start a free trial here.
Notice:
Please login then Download, Do please install the correct version of APK
You can check your IPTV subscription code in your user center: MY ACCOUNT-My Orders-View Order-SKU / IPTV CODE
Some important sports channels may be blocked in iView IPTV trial codes, but all open in iView IPTV subscription codes.
When you are ready to go deeper, check out our companion piece
How to use iView IPTV on Firestick?
How to install IPTV on Nvidia Shield?
How to install IPTV on Smart TV?
How to get iView IPTV for free?
How to use IPTV Multiple Device for iView?
If this helped you be sure to give it a Share to help others unlock the pure power of their shield tv box while enjoying the best IPTV subscription in the UK.