IPTV is a technology that delivers TV programs over the Internet, providing users with more TV content and a higher quality viewing experience. The following are the benefits of IPTV free trials and subscriptions:
Benefits of IPTV free trial:
Learn about IPTV services: A free trial allows subscribers to understand the content and quality of IPTV services in order to decide whether to purchase them.
Experience IPTV programs: The free trial allows subscribers to experience IPTV programs and understand their differences and advantages from traditional TV programs.
Compare different service providers: The free trial allows subscribers to compare the quality and content of different IPTV service providers in order to choose the most suitable one.
Benefits of IPTV subscription:
More TV content: IPTV subscription can provide subscribers with more TV content, including domestic and international TV shows, movies, sports events, etc.
Higher quality viewing experience: IPTV offers HD, Ultra HD and even 4K video quality, so subscribers can enjoy a higher quality viewing experience.
Time-shifting function: IPTV subscription allows subscribers to watch their favorite programs anytime and anywhere, regardless of time and geographical restrictions.
Cost savings: Compared to traditional cable TV services, IPTV subscriptions are usually less expensive and can save subscribers money
If you want to buy IPTV service, you need to register and login, and then buy, read this article, you will find more effective content.
First things first… You will need a high-speed Internet connection (30 Mbps) or higher (faster), and the higher (faster) the better. You will also need a compatible streaming device. You can find a list of those devices when Clicking the link at the top or below to visit the iView website. See the menu bar at the top of the website and go to…
Support >> FAQs >> Code & APK FAQ >> Q: What systems can our IPTV run?
Follow the written steps below to sign up for the iView IPTV Free Trial or iView IPTV Subscription. Registering to create an iView account is free for now.
Get Your Free Trial or Subscription Package Here
How to sign up for the iView free trial or subscription?
STEP ONE: Registration
Click Here to Visit iViewHD
Click the 'Register' link at the top of their website
Click the red 'Create an account' button
Under 'Create A New Account', enter your information – notice the red asterisks where info must be entered. Be sure to click the check box for 'I'm not a robot' and do as instructed
Click the 'Register' button below
Expect to receive an email from the IPTV service right after you completed the signup process (register). Read the email. If you don't see the email, look in your Spam/Junk mail folder. If the email is there, then move it to your regular email inbox where you normally receive emails.
Note: Make sure you entered your correct email address. Create a password, remember it, and save it somewhere. You will be needing both to sign in to your iView IPTV My Account when ready to renew your subscription or need your order info, activation code, etc.
STEP TWO: If Not Already Signed In
After you created your free iView IPTV registration, you are now ready to optinto the free trial or subscription.
If you are not already signed into your new My Account, do the following…
Click the 'Login or Register' link at the top of the website to log in using the same email you entered when you created your account and the password you created also
Click the 'Sign in' button
Note: You must be logged in first to opt into the iView IPTV Free Trial or iView IPTV Subscription.
STEP THREE: Choosing iViewHD IPTV Free Trial or iViewHD IPTV Subscription
Click the 'Subscription' link at the top of the website – you will see 3 subscription categories as iView HD, iView HD Plus & iView HD Plus Sub-Device. Two of the categories will have 1-month, 3-month, 6-month & 12-month subscription packages with different price sets.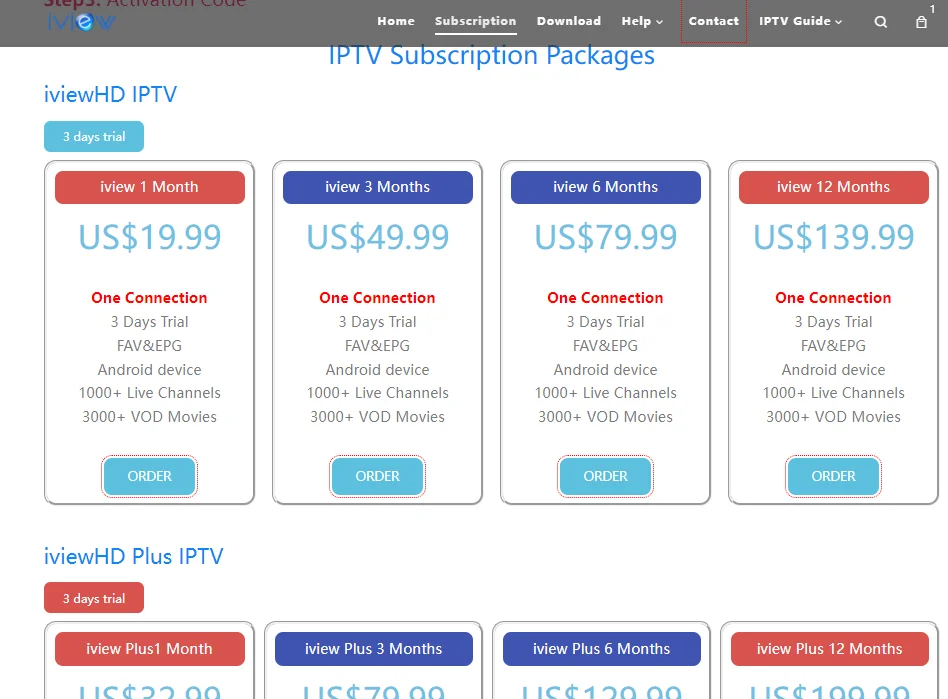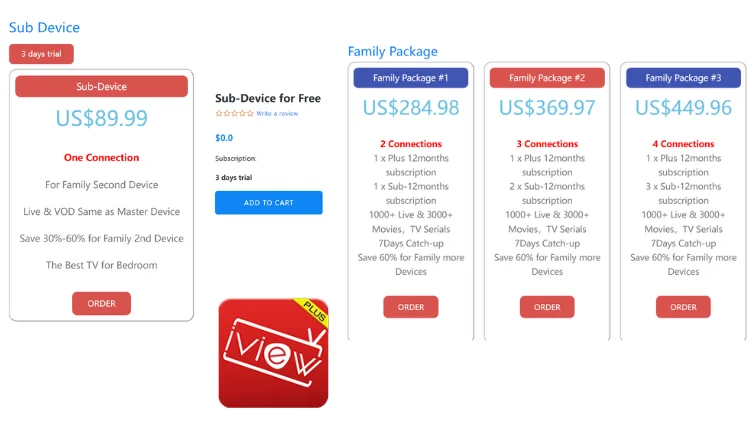 If you want the 7 Days Catch Up, then choose iView HD Plus or iView HD Plus Sub-Device and pay accordingly.
Each category name will have a '3 Days Trial' link directly below it if you want the free trial. Click the link to opt for the free trial if you want. Otherwise, click the 'Buy Now' button.
Opting into the free trial or subscription works basically the same but you will need a credit/debit card to pay if choosing a subscription. No credit card is required when opting for the free trial.
As for the iView HD Plus Sub-Device free trial or subscription, let me explain what this is.
First, you must have an iView HD Plus Free Trial or Subscription. Each one of those subscriptions (1, 3, 6 & 12-month) only allows one device connection. Same thing for the iView HD category with the 7 days catch-up.
If you want to add more devices to connect with iViewHD to watch TV online, then you will need the Plus Sub-Device subscription package. This will give 2 Plus device connections. But this will be a 12-month subscription only.
You will need to choose the number of months in the iView HD Plus subscription. If less than 12 months, then you should know the subscription will terminate before the Plus Sub-Device 12-month subscription. The Plus Sub-Device subscription comes with a related app that can only be installed on your 2nd or 3rd device.
To be clear, iView HD, the Plus, and Sub-Device subscriptions will each have their own app to be installed on your compatible device. These apps are not interchangeable. Get it wrong and you won't be able to watch TV online.
STEP FOUR 1A: Opting into Free Trial
You should be in the 'Subscription' section now.
Each category – iView HD, iView HD Plus, and iView HD Sub-Device has a 3 Days Trial link directly below the category name. If opting into the free trial for the Plus package with 7 Day Catch Up, do the following…
Click the '3 Days Trial' link (another page appears)
Click "Add to Cart" and follow the instructions to fill in your personal information, please make sure your email is correct.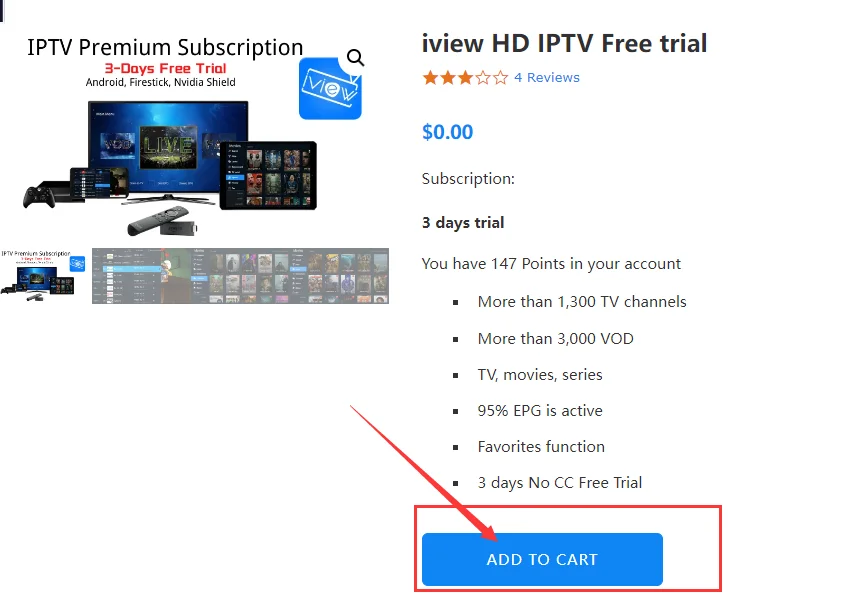 Note: You are going to navigate to the following :
My Account (must be signed in) >> My Orders >> View Order
See 'SKU / IPTV CODE'. This is your Activation Code needed for the app after it's installed on your device. You must enter the code into the app so that you can connect the app to the iView HD IPTV service to watch TV online.
If I missed any steps of info here, just follow along with the free trial process until you complete it. You should receive an email as well – read it.
STEP FOUR 1B: Opting for Paid Subscription
You should be in the 'Subscription' section now.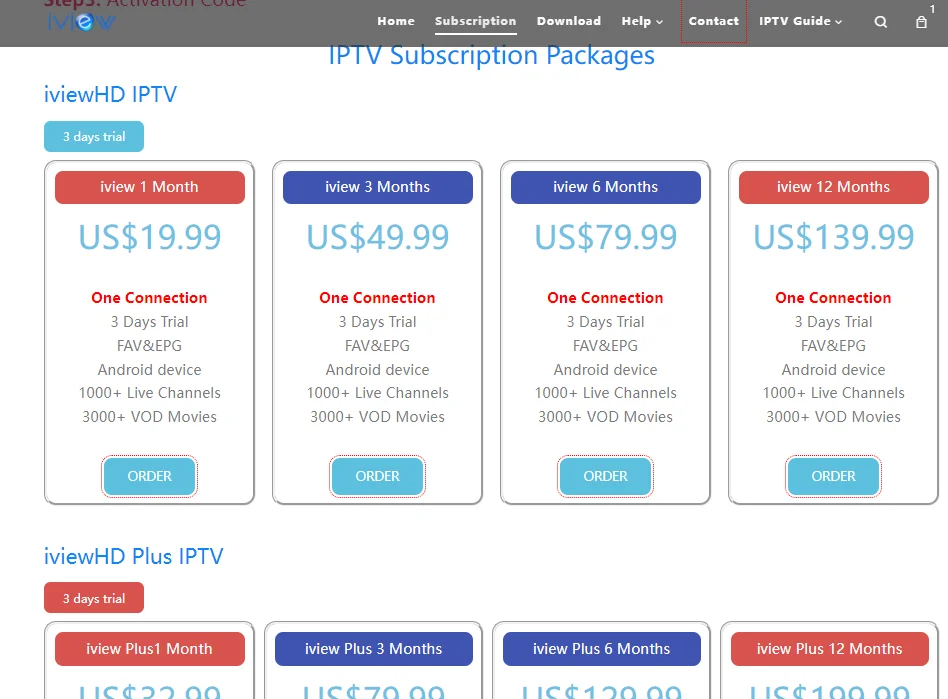 This pretty much works the same way as the free trial only you will be using your credit card and enter additional info.
Click the 'ORDER' button for the subscription package you want such as the iView HD Plus – 1 Month. If there's a coupon code, you may find it on the Home page of the website. If there is a code, enter it to get a discount – be sure to click the 'Apply' button after entering the code. A popup window will appear so read it and then close it
Click the 'Proceed to checkout' button and fill in your billing info. You may not want to enter a real phone number like me. Enter a fake one if you want.
Enter your Payment Method info (Visa Card or MasterCard)
Click the 'Place Order' Now button to proceed
Note: You should now see the Order Processing – Thank Up page and received an email about your order to open and read. The order info will be inside your 'My Account' along with your Activate Code.
How to Renew Your Subscription
No, iViewHD IPTV does not automatically renew any subscriptions. If you want to continue using iViewHD's services, simply order a package from iView website. After you pay, you will get a new subscription code, which you can reactivate to use.
Last Step…
I highly recommend buying/using the Amazon Fire TV Stick. It's cheaper and yet powerful and works great with all IPTV services and apps. You get a remote control and Alexa Voice for voice commands. You can connect the Firestick to any HDTV or Smart TV with an HDMI port.
I hope this tutorial for iViewHD IPTV Free Trial and iViewHD Subscription helped you understand how to get set up.
Get Your IPTV Free Trial or Subscription Here and Watch Your Favorites Online